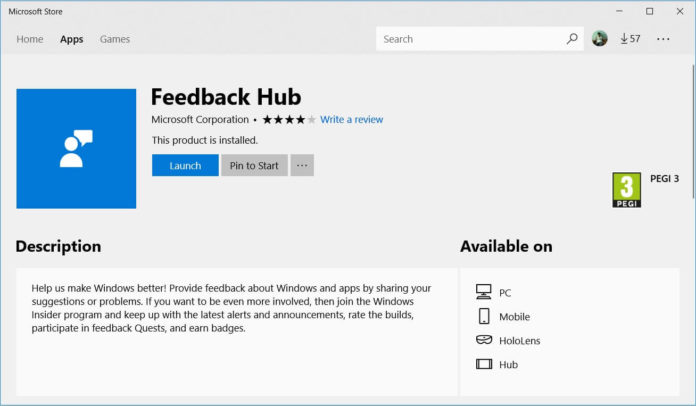 Microsoft is always making changes to Windows 10 and recently the company updated the Feedback Hub with a new feature that allows you to rate the severity of the bug. That means the feedback from Insiders would help Microsoft prevent critical bugs from reaching production devices in the future.
It looks like that Feedback Hub in Windows 10 (regardless of the version) is now also asking feedback for non-Microsoft products. According to a Reddit thread, Microsoft's Feedback Hub in Windows 10 might ask feedback for Mozilla Firefox and even Google Chrome.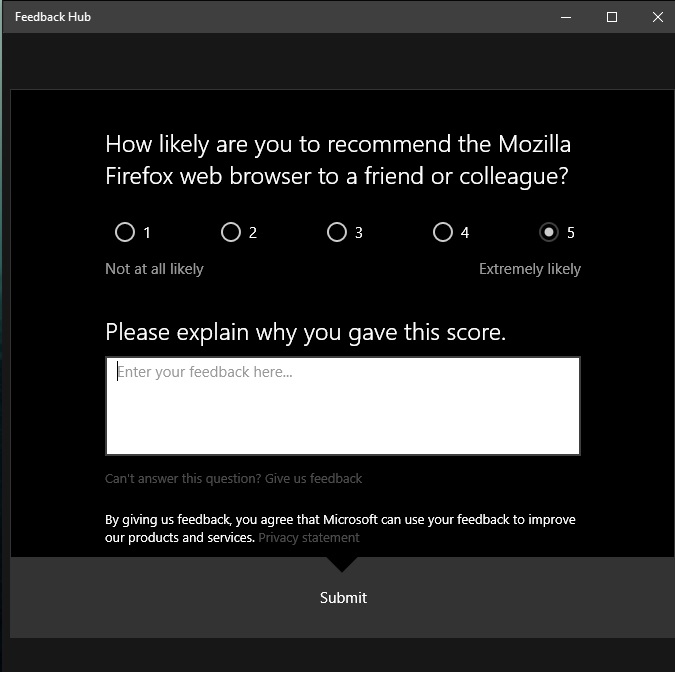 It appears that this is not a new thing as the users report that they received the same notification almost one year ago.
Windows 10 (So Microsoft asking me) Feedback hub question asking me how likely it is I would recommend Google Chrome to a friend. I answered 5 (ex.likely) and commented 'cause it's much better than IE ;-)

— David (@davebax1974) June 18, 2018
Feedback Hub is designed to send a feedback or problem to developer quickly. So it could be possible that Microsoft's Feedback Hub will collect the feedback or suggestion from users about Firefox and Microsoft will send it to developers (Mozilla in this case).
"This has been a thing for a few years. Feedback hub tracks the most popular apps, mainly for insiders to report bugs. Any app that is listed in the feedback hub can generate this question. I have all my UWP apps, and about six non Microsoft apps listed in my feedback hub. These can generate that question or a few others," a Reddit user explains.
Feedback Hub improvements
As noted above, Microsoft recently updated the Windows 10 Feedback Hub app to include details about the severity of the issues.