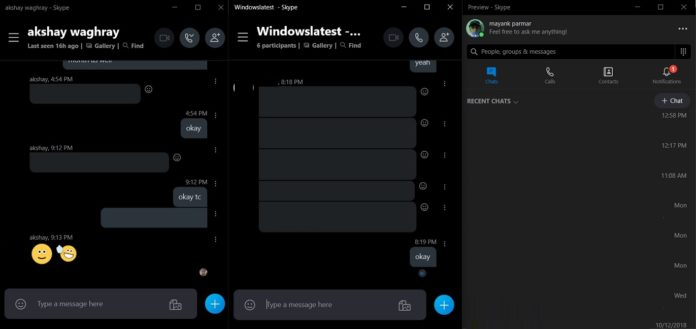 Microsoft is listening to users feedback as the latest Insider build of Skype comes with the highly-requested feature. Skype preview for Windows has been updated to version 8.33.76 and it comes with the Split View mode that would help you chat with multiple people at same time.
Back in August, Microsoft confirmed that Skype version 8 will be updated with all necessary features to bring it on a par with Skype classic. Skype 7 has the Split Window View which allows users to split their chats into their windows. This allows users to conduct multiple conversations (individual or group).
Split View Mode is finally coming to Skype 8 on Windows and it's exactly how it should look and work.

You can enable a special split mode view of Skype by clicking the three dots menu. Once enabled, you will notice that the recent conversations are displayed in a narrow window. The conversation will now appear in an independent window if you tap on it from the list or an incoming notification.

The opened conversations would also display individually in the taskbar. At the moment, the new version of Skype is only available for the Insiders and you can join the Insider program from the Settings menu.
Folks over at ALumia has shared a video that shows off the feature in action.
Split View Mode for @SkypeInsider is finally here! https://t.co/gKT6mXbowj pic.twitter.com/1yBzLlAfha

— Aggiornamenti Lumia (@ALumia_Italia) October 23, 2018
Read Receipt feature is now also live
Microsoft originally announced the Skype's read receipt feature in July but it has just started to show up on more accounts. If you want to know if your friend or colleague has seen your message, Skype finally includes the read receipts. It's a useful feature that has been missing from the messaging platform for quite some time.

This will allow users to see who has read your messages. It's available in group and individual chats, and you will notice it when the avatar/profile of the user appears beneath the messages in Skype chats.
According to a blog post, the feature is available in individual conversations and group chats with 20 or fewer people.
Skype Money feature is also rolling out
Earlier this month, Microsoft started rolling out a new update for Skype preview that adds a new feature which allows you to send money via PayPal.
This feature has been available to Android and iOS for a while now but it's now also live on Windows. After a brief testing with Insiders, the PayPal integration should be coming to the public version of Skype soon.