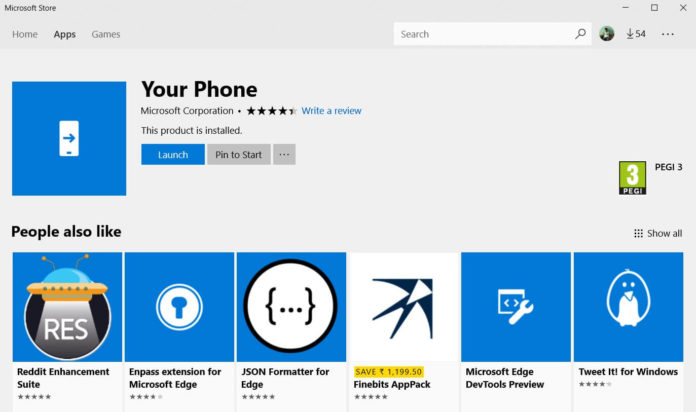 Microsoft introduced the Your Phone application with the latest Windows 10 October 2018 Update. The Your Phone app allows users to sync their Windows 10 PCs with their Android devices, giving them full access to their content like photos and messages.
To be able to have full access to your photos and messages, the Your Phone app needs to be installed on both the Windows 10 PC and Android device. The Your Phone App currently is the highest trending application on the Google Play Store with more than 5 million downloads.
This achievement of the Your Phone app was announced by Vishnu Nath, Head of Program Management, Microsoft Mobility.
"The #YourPhone companion app is now the #1 trending app in the Google Play app store! So exciting to see the enthusiasm for cross-device experiences. Thank you to our fans!" he posted.
The number of downloads as on the Google Play Store is currently showing as 5 million downloads but given that Android users can also install it using the APK file we expect the number of downloads to be much higher.
Microsoft is currently working on adding more new features to the Your Phone app by working on support for any Android application. The company is working on a feature "App Mirroring" which would let Windows 10 users run Android apps on their PCs through the Phone.
This feature is currently under internal testing with the company already providing a demo of it during the Surface Event on October 2. We are not sure as to when the feature will be made available as the company has not announced any ETA.
If you haven't yet tried installing the Your Phone application on your Windows 10 PC and Android device, then you can do so by going to the Microsoft Store. You would need to sign in with the same Microsoft account on your Windows 10 PC and Android Phone to be able to sync your photos and messages.