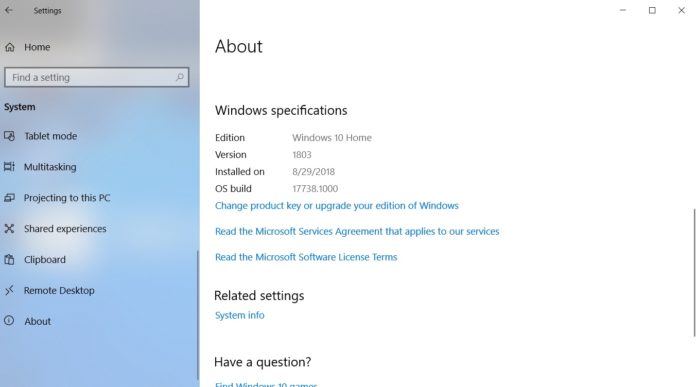 Microsoft is rolling out Windows 10 October 2018 Update to compatible devices. The update shows up on devices when you open the Settings app and manually check for updates.
Windows 10 October 2018 Update system requirements remain unchanged that means if your PC is running Windows 10 April 2018 Update, you can easily upgrade to new version.
Windows 10 October 2018 Update (version 1809) system requirements
RAM: 1GB for the 32-bit system and 2GB for the 64-bit system.
Storage: 16GB empty space is required for 32-bit systems and 20GB for 64-bit systems. You're recommended to have up to 50GB of free space for flawless experience.
CPU speed: Up to 1GHz.
Screen resolution: 800 x 600.
Graphics: Microsoft DirectX 9 or later with WDDM 1.0 driver.
About the Windows 10 October 2018 Update
Yesterday, Microsoft announced the Windows 10 October 2018 Update and it's available for manual download via Windows Update, Upgrade Assistant Tool and Media Creation Tool.
As expected, Windows 10 version 1809 is rolling out in stages. This means that not everyone will receive the new bits today but you can open the Settings app, navigate to Updates & Security patch and tap on 'Check for updates' to download the Windows 10 version 1809.
In a blog post, Microsoft recommends users to wait until the update is offered to your device. Microsoft won't release the feature update to your device if it has any incompatible driver but if you're an advanced user, you can always force the update on your PC.
Technically, you can open Settings app or Cortana from the taskbar and type Check for updates in the search box to begin the download and installation process. It's important to note that the system might say your PC is up to date which is normal as the update is gradually rolling out.
The full rollout
Windows 10 October 2018 Update will be rolled out to more computers over the next few months but the wider rollout is expected to begin early next week. You may find this concept annoying but it's important as Microsoft needs to gather the feedback, detect bugs and then push the update to your PC to ensure the functionality of your drivers, printer and other peripherals.
Obviously, Microsoft hasn't revealed when the update rollout will complete but judging how it went in the release of April 2018 Update, the version 1809 will become available for PCs over the next few months.