New data shows that Windows continues to gain market share in the education sector and this is the result of the new affordable devices from Microsoft's OEM partners. Microsoft leads the charts and Windows continues to be the preferred choice for devices in the education sector, with Apple far behind in third place.
The sub $300 remains a competitive segment and while Chromebook performance remains strong, Microsoft's Windows market share has also increased as the software maker has been positioning affordable solutions for students.
According to FutureSource Consulting, Microsoft has managed to increase the adoption of Windows devices in the sub $300 by 11%. It's a year-on-year growth recorded in Q2 2018 and the shipments of the devices in this sub grew by 75%.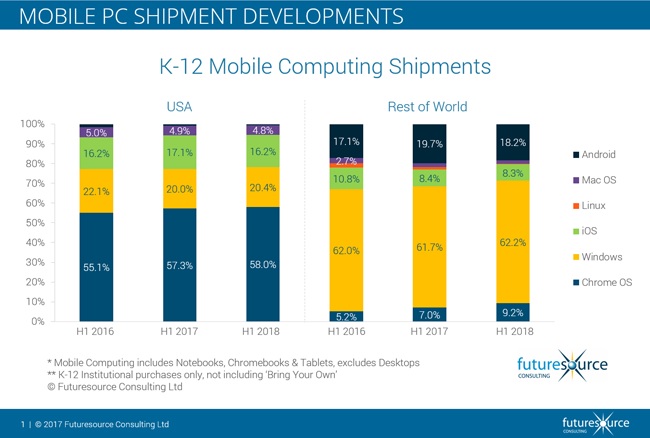 "Microsoft, especially, has been working hard to close the price gap between Windows and Chromebook by promoting partner devices on the Windows platform, priced as low as $189. Globally, Windows share in sub $300 category grew by 11% year-on-year in Q2 2018, with shipments of Windows devices in the category growing 75%," the report reads.
The overall market share of both Chrome OS and Windows has increased by 0.7 percent and 0.4 percent, respectively. Both Microsoft and Google are betting big on affordable devices for the education niche and the competition between Windows 10 and ChromeOS is expected to heighten in the coming quarters.