With the new range of Snapdragon processor, Qualcomm aims to blur the lines between laptop, tablet, and smartphone. While Qualcomm will continue pushing the Snapdragon for use in ARM-based phones, the company will also focus on Windows 10-powered notebooks.
Snapdragon-powered Windows 10 PCs has successfully addressed the battery backup concern of the consumers but the overall performance of the ARM-powered PCs was disappointing.
Microsoft and Qualcomm's intention is to continue to push the Snapdragon processor for traditional Windows-powered products. It looks like the chipmaker is working on a powerful processor that would power high-end Windows 10 devices.
The Snapdragon 8180 was recently spotted on GeekBench and by the looks of things, the processor is expected to utilize ARM's fresh Cortex A76 cores.
Qualcomm Snapdragon 8180 for high-end PCs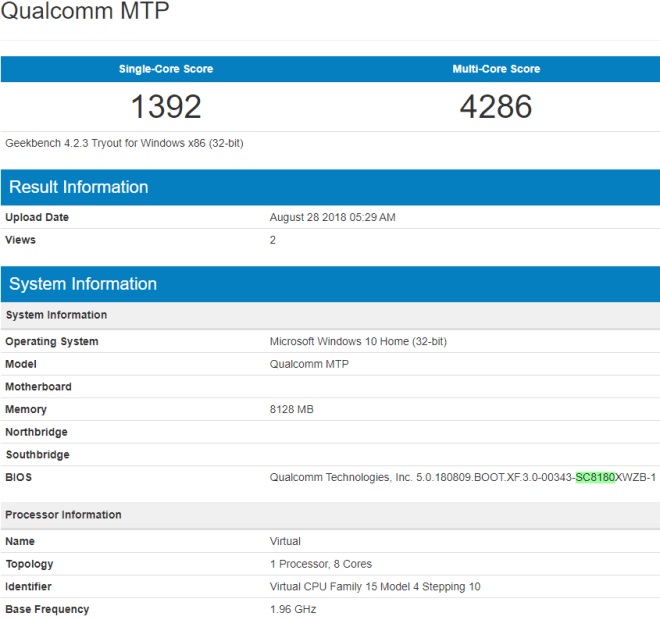 Snapdragon 8180 is supposed to power high-end PCs and it's a step in a direction that has the potential to create a massive shift in the industry. Always Connected PCs could get a much-needed boost with SD8180 processor.
As you can see in the above screenshot, Snapdragon 8180 has surfaced in GeekBench 4 and by the looks of it, it's going to power ARM-PCs. The SD8180 has scored 1392 Points In Geekbench's single and 4286 points in multi-core tests. The test was conducted on a device with 8GB Of RAM Windows 10 32-bit operating system.