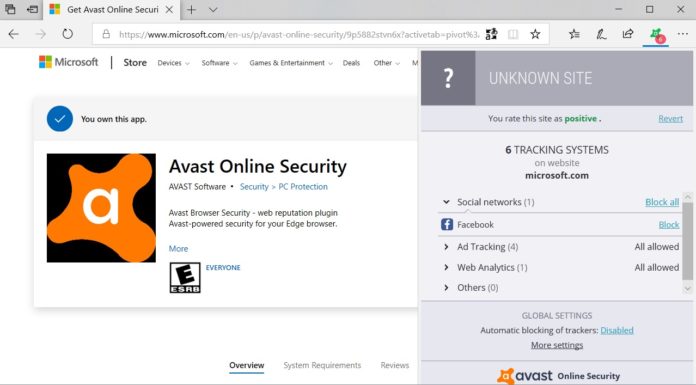 Avast Online Security extension is available in the Microsoft Store for almost two months now but it was officially announced in a blog post yesterday.
In release notes of Avast Antivirus version 18.6.2349, the antivirus and security firm announced that the new extension called "Avast Online Security" is now available for Microsoft Edge.
The company writes that the new Edge extension has replaced the old Internet extension and you can download it from Microsoft Store.
Avast Online Security extension for Microsoft Edge is supposed to identify and block phishing sites that may try to steal your data. You can also see the ratings of the websites which is based on reviews from Avast community which has close to 400 million users.
Avast Online Security extension for Microsoft Edge comes with the following features:
See how website has been rated by a growing community of 400 million Avast users.
Easily check the rating of any website just by hovering over the link.
Warns you when you're visiting websites with bad reputations.
Rate a website effortlessly, marking them with a thumbs up or a thumbs down, to help other users know where to avoid.
Blocks annoying tracking cookies that collect data on your browsing activities
If you're interested, you can download the extension from the Microsoft Store.