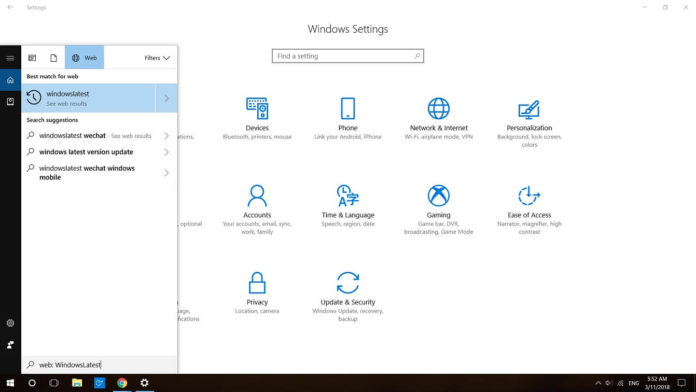 Microsoft has finally realized that the search engine in Windows 10 has the potential to break other features. Microsoft says that there were enough people turning off Windows Search to fix issues like Excessive Disk Usage.
Windows Search is deeply integrated into the Windows 10 operating system and it powers the following features:
All the features such as Cortana, File Explorer, and many UWP apps are powered by Search.
The Outlook email search is also powered by Windows Search.
It improves your browsing experience in Edge browser as it provides suggestions from your personal web history when you type in the Edge address bar.
It is used for the sync and change tracking logic in files on-demand.
The search index for Windows Search is stored on your machine. That means the data about your files will not leave your machine.
The new Timeline view uses the Windows Search.
"Despite significant changes across several Windows 10 releases, there were enough people turning it off Windows Search that we feared we might be missing a major underlying issue," Microsoft explains.
Microsoft says that the users might have turned off the search feature to address excessive disk usage, excessive CPU usage and many other issues. With the help of the feedback from Insiders, Microsoft has managed to trace the issues and the fix will be implemented soon.
"During a three-month campaign, if someone disabled Windows Search, a 'toast' would pop up on the screen asking why," the company explains. Microsoft categorized the issues and created a chart: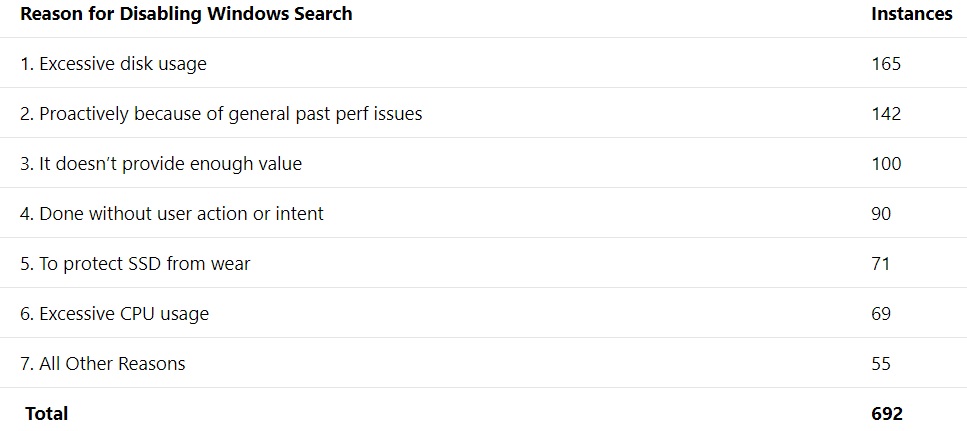 "Give Windows Search a try in the new release — for just one week. If you don't like it or something bothers you — log feedback in the Feedback Hub (or upvote an existing issue) and disable it until the next release," Microsoft said in a blog post.
The Search feature itself is broken
In other news, the users on social media website Reddit recently claimed that the search feature in Windows 10 doesn't work. The search feature which is powered by Cortana and Bing has evolved a lot. But the search capability is somewhat broken, it's far from flawless and errors show up when you search for basic stuff. It's a lot easier to find the information on Windows 10 but the feature is not that reliable.
The search feature in Windows 10 is broken on specific sets of systems and you couldn't reproduce the bugs. There are cases when users need to rebuild the index to fix the broken search feature but it's very rare.