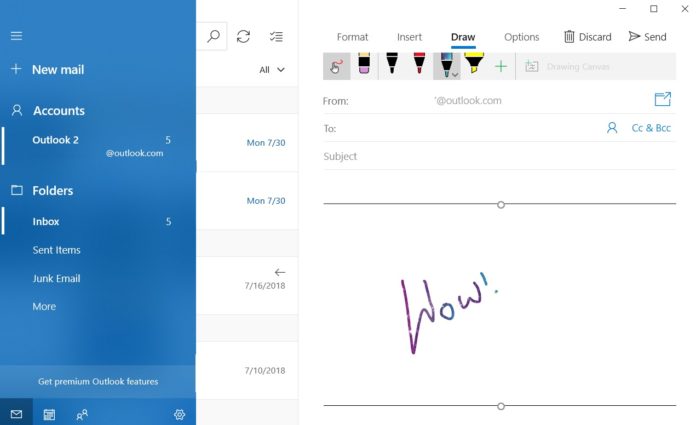 Earlier this week, Microsoft updated the Windows 10 Mail app with inking integration which lets you write emails with touch or a stylus. Called Windows Inking, this allows users with a touch-enabled PC or any device with a mouse to draw in emails, which is a very useful feature for many users.
Microsoft has quietly published a new how-to video and a tutorial on its website to explain the drawing feature of Windows 10 Mail app. The new feature is available under the Draw option in a new mailbox screen, and here's how you can use it.
Draw in emails with Windows 10 Mail app

Open the Mail and create a new message or reply to an existing message.
At the top of the message window, select the ribbon that has a drawing icon.
Put the cursor anywhere inside the message body and finally click drawing canvas.
You can draw in emails.
You can also draw directly on an image. To get started, select the Insert tab and insert a picture into the message. With a pen or a mouse, you can write or draw on the images and send it to the receipt.
There's another feature that lets you draw or sketch next to the inserted image. You would need to select draw and pick any customized pens to draw. You'll find different pens, highlighter and you can also customize the thickness and colour.
It's worth noting that the inking feature in Windows 10 Mail is now being pushed to production devices after it was previously tested with Insiders exclusively. It should show up on all devices where a touchscreen, mouse or pen input is available.