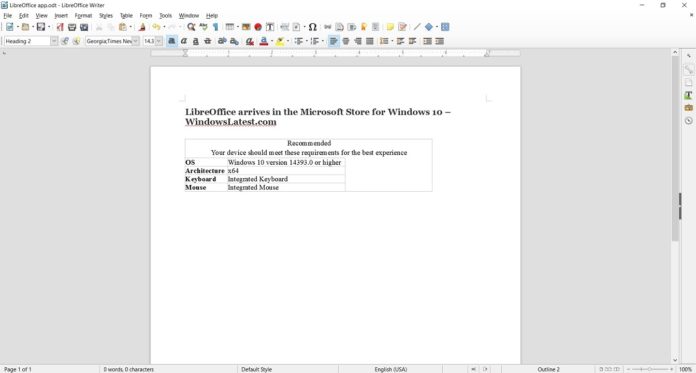 Microsoft Office has been the reigning champ of office suites. The open-source Office suite called LibreOffice is a worthy alternative to Microsoft Office and it appears that a third-party developer has published the app in the Store for Windows 10.
Since its early days, LibreOffice has been a community-driven project and by the looks of the things, a third-party developer has published the LibreOffice in the Microsoft Store. While you can download the full app for free, there's also an option to purchase the app for $2.99 and support the publisher.
"Free trial is unlimited and has all the features. Buying it supports us. LibreOffice is a powerful office suite – its clean interface and feature-rich tools help you unleash your creativity and enhance your productivity. LibreOffice includes several applications that make it the most powerful Free and Open Source office suite on the market: Writer (word processing), Calc (spreadsheets), Impress (presentations), Draw (vector graphics and flowcharts), Base (databases), and Math (formula editing)," the Store description reads.
The app is published by a developer going by the name of ".Net," meaning they are definitely not officially sanctioned by The Document Foundation.
It appears that the publisher used Microsoft's Project Centennial to convert the Windows desktop application to Universal Windows platform (UWP). The Project Centennial basically allows developers to repackage the existing .NET and Win32 desktop applications to include them in the Microsoft Store.
You can download LibreOffice for Windows 10 from here.