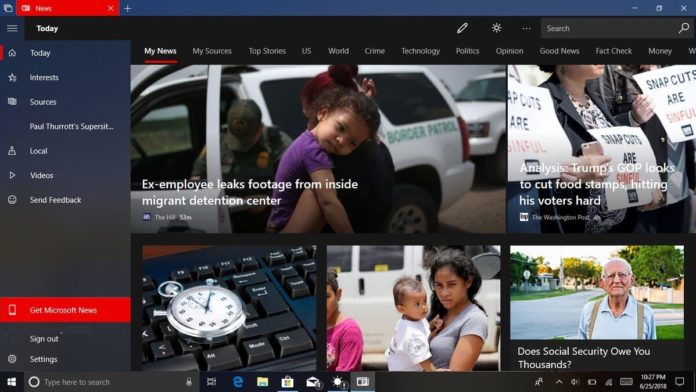 Microsoft is also rebranding the Microsoft News app on Windows 10, after the company previously released it on Android and iOS. The new name is more straightforward and brings it in line with similar apps on all app platforms.
It's worth noting that the updated version of Microsoft News is available for the Windows Insiders in the Fast Ring, and it'll be rolled out to the public soon.
MSN.com, will retain its name, but the app is being rebranded as Microsoft News on all platform. Microsoft News comes with the same feature package as the original MSN News app, but also includes a touch of Fluent Design on Windows 10. Microsoft News comes with a series of improvements on all platforms, and it can deliver better news suggestions to users.
As Microsoft News is just a facelifted version of MSN News, it comes with same design and features.
Just like MSN News, the Microsoft News app also shows breaking news alerts, has a dark theme. Microsoft is also adding a new option called "Get Microsoft News" to the sidebar, and it allows you to find the app on Android and iOS.
"This curation process is global, using editors with local expertise. Today, there are more than 800 editors working from 50 locations around the world – including editorial newsrooms serving multiple regions in India, Germany, France, Mexico, Canada and Spain. Many of our editors have extensive backgrounds in media and journalism and have worked at a variety of news organizations," Microsoft said in a blog post.
You can download the Microsoft News app on Windows 10 and Windows 10 Mobile devices as well. It's worth mentioning that Weather, Sports and Money apps are also getting a new update with Fluent Design's acrylic effect on the hamburger menu or sidebar.