Windows 10 Redstone 5 provides you with the clipboard sync feature used to provide access to the contents across devices. Here's a step-through tutorial on how to enable this feature.
Clipboard as a feature has been used to copy and paste contents such as text or images across applications on a single device running Windows 10. The upcoming Windows 10 Redstone 5 update has significantly extended this feature to make use of the cloud and effectively copy and past content across devices ranging through many applications.
The new clipboard can be opened up with the (WIN + v) shortcut which further opens up a new clipboard interface where you can dump anything from your history or you can even pin contents that will be going to be used regularly. To be able to use this handy feature, you should first enable it as it is turned off by default. This has to be done manually in the settings page.
It's worth noting that the Cloud Clipboard feature is available on Windows 10 Redstone 5 update (version 1809, Build 17666 or higher). Windows 10 Redstone 5 is currently available only for Windows Insiders and it'll be released to the public in October.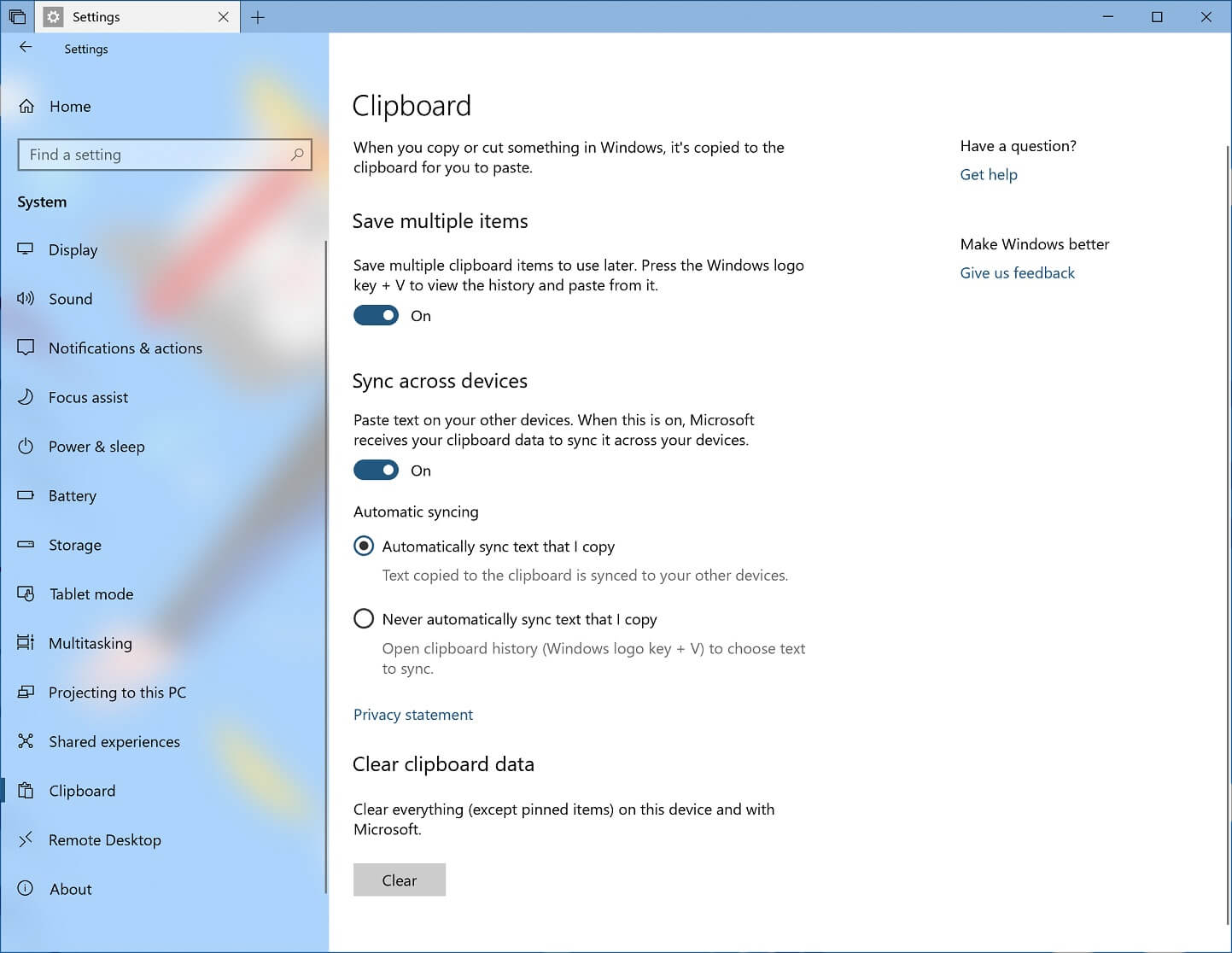 Here's a step-through tutorial on how to enable this feature and be able to sync your contents across devices.
Open Settings of your Windows 10 device.
In the Settings, navigate to System.
In the System settings, select the Clipboard option
On the Sync across devices section in the right, you may be prompted to log in to your Microsoft account and then click on get started.
Now in the same section, you'll be provided with a toggle button to enable 'Sync across devices'. Turn that on.
You can now choose how to sync across devices. Either automatically or not.
Automatically sync text I copy – This means that everything you copy to the clipboard will be automatically synced across all your devices.
Never automatically sync text I copy – If you select this, then you should automatically open up the Clipboard interface using the WIN + v shortcut and select the contents that you want to get synced across all your devices.
After completing the above-mentioned steps, you now can use the clipboard feature and sync your contents from the clipboard depending upon the settings you've chosen. You can later turn this feature off by following the same steps and toggling the button to off.
This feature will be added to Windows 10 with the Redstone 5 update. You need to update your PC to the preview or wait until October in order to use it.