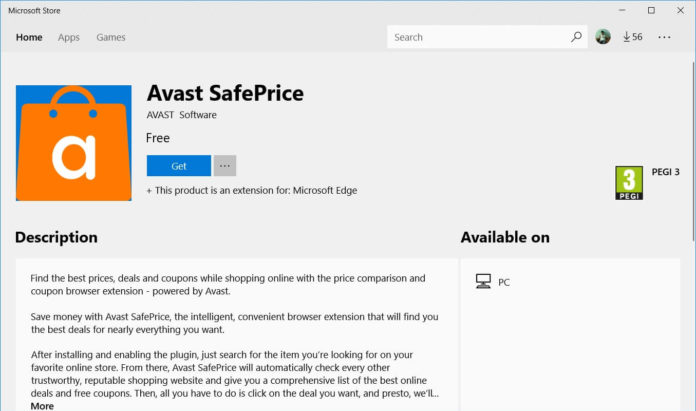 Microsoft Edge received support for extensions with the Windows 10 Anniversary Update, and ever since then, the developers have published new extensions for the browser. Microsoft Edge still has fewer extensions than Google Chrome but the software giant last year said that it's really not a bad thing.
Avast, one of the top antivirus makers out there, has released a new price comparison extension for Microsoft Edge, Windows 10's default web browser. The extension called SafePrice is from award-winning antivirus firm Avast but it's not in any way related to antivirus solutions, the extension is basically supposed to help users find the best deals on the internet.
You can install Avast's SafePrice extension in Microsoft Edge and find best deals and coupons for your favourite products. It's worth noting that Avast has also released the extension for Google Chrome, and it's a decent solution to find better deals while you shop online.
Security company Avast launched the extension for Microsoft Edge to help users find deals from the trustworthy and reputable shopping website.
"Avast SafePrice will automatically check every other trustworthy, reputable shopping website and give you a comprehensive list of the best online deals and free coupons. Then, all you have to do is click on the deal you want, and presto, we'll take you there and you can finish your purchase," the company explains the extension.
Avast SafePrice works in a pretty straightforward way, and it automatically checks for better deals for the products you want to purchase online. The extension is completely free and you can download it from the Microsoft Store.
The extensions available for Microsoft Edge is substantially lower than in the case of third-party alternatives, but this slow development is not the result of developers neglecting the browser.
The latest data offered by NetMarketShare claims that Google Chrome is the leading browser with a share of 62.85 percent. Microsoft Edge, on the other hand, is fourth with just 4.26 percent market share. The discontinued Internet Explorer holds 11.82 percent, and Mozilla Firefox is third with 9.92 percent market share.
Microsoft is betting big on Edge browser, and the browser is also available on non-Windows 10 devices. Do you use Microsoft Edge? Let us know in the comments below.