Microsoft hasn't given up on Windows 10 ARM project and the company is committed to Always Connected PCs powered by Qualcomm Snapdragon processor. According to a new report, Qualcomm is working on Snapdragon 850, the same Snapdragon 845 processor but with a higher clock speed of around 3 GHz. The processor also appeared on Geekbench.
If the reports are believed to be true, Microsoft partners will launch more devices running Windows 10 on ARM in the coming months.
Qualcomm Snapdragon 850 processor is, in fact, only designed for Always Connected laptops and it won't power the regular smartphones. The devices from OEMs with Snapdragon 850 processor may hit the market sooner than expected.
Microsoft last year announced the Always Connected PCs from HP and ASUS. It has gained a lot of exposure since 2017, and the very first PCs have already been launched. It has received a mixed reaction from both customers and critics.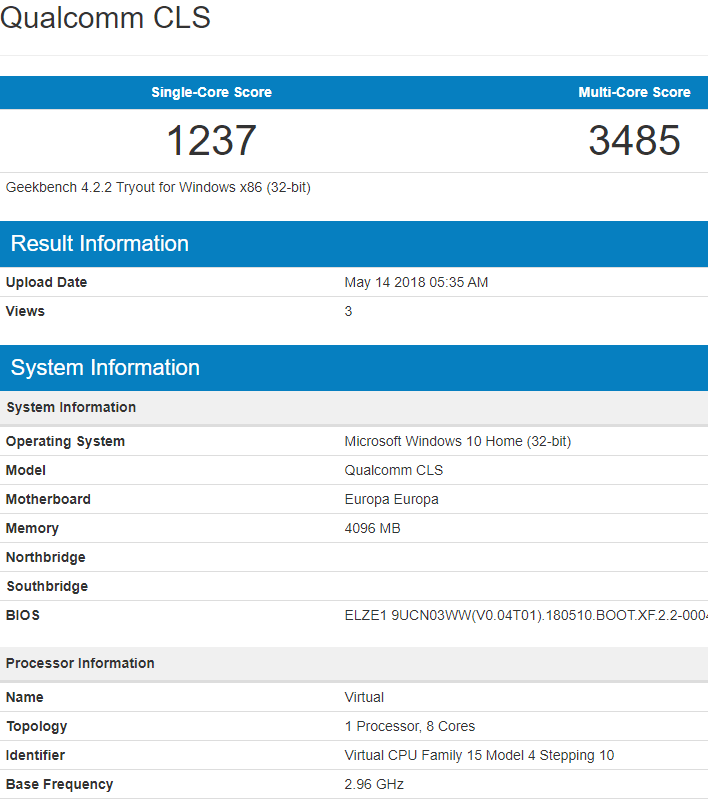 Microsoft's Windows 10 on ARM is a decent concept but the software giant still has to deal with some limitations. Microsoft is making no compromises with its Windows 10 ARM platform, and it's likely thnext feature update for Windows 10 e will include major improvements in this regard. It means that such devices will continue to receive improvements in terms of features, performance and battery life.
Windows 10 on ARM devices provide stunning battery life and devices are said to go to as much as one month per charge in standby mode. In real life tests, the Always Connected PCs also provide better battery life than regular laptops but the performance also depends on a series of factors.
The report is a living proof that Microsoft is very committed to continuing the rollout of Windows 10 on ARM and we can expect new devices with upgraded Snapdragon processors in the coming months. At this point, the ARM PCs are all about Snapdragon processor but that won't be the case in the future.
Windows 10 on ARM aims to make laptops work more like a smartphone, and most of the smartphones are powered by ARM chipset from Qualcomm. In other words, WoA paves the way forward in mobile computing.