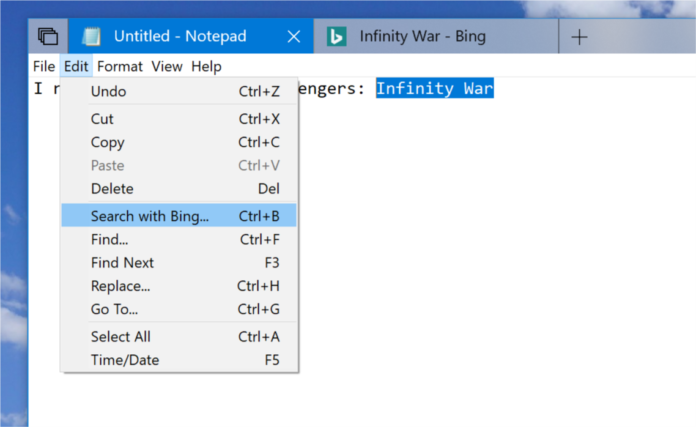 Microsoft introduced the Notepad as a mouse-based text editor. And Notepad has been included in all versions of Microsoft Windows since Windows 1.0 which was released in 1985.
Even though it's lack of functionality and lack of feature compare to other popular text-editor, Notepad is still one of the most used text-editor. Meanwhile, at Microsoft's annual developer conference Build 2018, company announced that Notepad is getting support for the Unix/Linux and Macintosh line endings. This is such a huge thing not only for developers but also for users.
More recently, the last Windows 10 Insider Preview Build 17666, Microsoft added a couple of more exciting feature in Notepad. Microsoft integrating the Bing search feature in Notepad. In order to invoke search all you have to do is select the word or phrase and press Ctrl + B, or right-click on selected text and hit "Search with Bing" or go to Edit > Search with Bing.
This feature work just fine. Yes, as you expect it will launch your default browser with a search query in Bing.com. But it would be so much better if Microsoft brings some adaptive card-based UI or something similar, (just like what we have in Microsoft Edge Ask Cortana), so a user doesn't have to leave the Notepad at all.
Some users might find that Notepad is losing its enticement but it really doesn't. Microsoft is just expanding the boundaries of it, and they are committed to keeping the Notepad a simple tool. Of course, Microsoft is not going to replace Notepad with a Universal Windows Platform app any time soon, so just don't worry about.
As of now, these new features are only available for the Windows Insider who opted in to Skip Ahead branch and Insider in Fast Ring. But it will be available to everyone with the release of the Windows 10 Redstone 5 which is scheduled for Fall 2018. We'll soon hear more information about it from Microsoft in upcoming months. Till that stay tuned to Windows Latest for more updates.