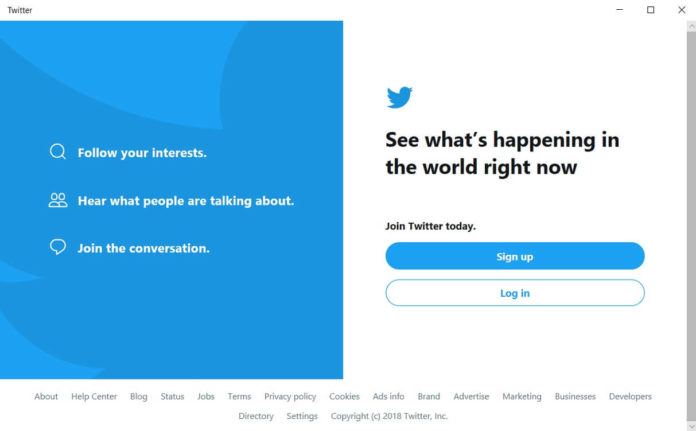 Twitter recently announced its new app optimized to run only on Windows 10 April 2018 Update devices, and the old UWP app will be retired for all older version of Windows operating including the Windows Phones. The company is recommending users to either use Twitter in web browsers or upgrade to Windows 10 April 2018 Update.
Twitter in the same blog post has announced that it's new Progressive Web App (PWA) for Windows 10 will receive new features in the coming days. The company has promised features like night mode and it will be added in very near future.
Twitter's PWA features a consistent look and feel, it also offers a streamlined experience on desktops. The company says the new app is modern and works with most of the unique Windows 10 features like support for native APIs. The other features also include the ability to bookmark tweets and access to 280 characters-long tweets.
Twitter is fully committed to Microsoft's Windows platform and it aims to provide features to all of the platforms. "We want to continue providing our Microsoft users with the latest and greatest, and will be adding additional features like night mode, in the coming weeks and months," the company said.
Yesterday, Twitter also announced that their apps will stop working on platforms such as Windows Phones as Progressive Web App for Windows would only run on Windows 10 April 2018 Update. The old UWP app has been removed from the Microsoft Store and it may stop working on existing devices after June 1st.
Twitter's old apps will no longer work on Windows Phone Windows Phone 8.1, Windows 10 Mobile and earlier. Needless to say, Twitter never really bothered about Windows Phones and the performance of its UWP app on mobile was below average.
Twitter ending support for Windows Phone is not a big news as Microsoft itself is no longer committed to its own mobile platform. Windows 10 Mobile is currently in maintenance mode and only security fixes would be delivered until mid-2019.
Needless to say, developers are one by one leaving Microsoft's mobile platform after Joe Belfiore's announcement. While more developers will likely pull their Windows Phone apps and focus on Android and iOS exclusively, most of the first and third-party apps including the Progressive Web Apps will continue to work on Windows 10 Mobile devices.