In Brazil, the federal prosecutors have filed a lawsuit against Microsoft seeking a fine of $2.87 million for violating user privacy with Windows 10 operating system. The prosecutors have been quoted saying that Microsoft collects data without users' consent in Windows 10. It claims that the default settings of Windows 10 grant Microsoft access to information like location, browsing history and content of the email.
Microsoft has faced criticism in the European Union due to the default installation settings of Windows 10 operating system, and the company has tried several times to address all these concerns with the new privacy controls. In Brazil, the company has been asked to adjust the default installation to remove the data collection activities. The Brazil prosecutors have also claimed that the software giant is using customer data to generate revenue from targeted advertising.
"The procedure violates innumerous constitutional principals, such as the privacy protection," the federal prosecutors office in Sao Paulo, Brazil said.
It is worth noting that the users are always allowed to block Microsoft from collecting some data but the prosecutors believe that the process is complex for the home user, and 'labour intensive'. The prosecutor's lawsuit was asking that Microsoft should be fined 10 million reais (which is equivalent to $2.87 million or $28,700). Furthermore, Microsoft has also been asked to stop the process of data collection within 15 days.
Microsoft Office in Brazil hasn't offered a statement in this new lawsuit yet but it's likely that the software giant is already working with the authorities to address the privacy concerns.
It is also worth noting the Microsoft is updating the privacy controls in Windows 10 with every feature update.
Privacy improvements in the newest version of Windows 10
Microsoft has also been criticized for Windows 10 privacy concerns in several other countries. Needless to say, the privacy controls in Windows 10 operating system is getting better with every feature update, and the latest Windows 10 April 2018 Update also comes with several privacy-related improvements.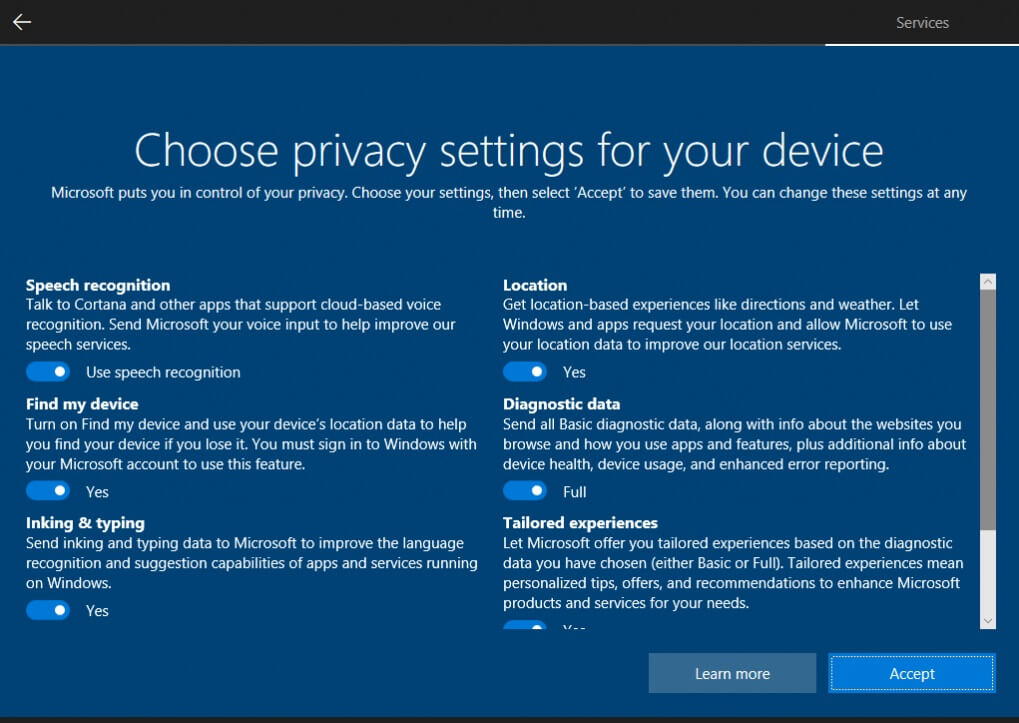 The latest version of Windows 10 comes with a new privacy setup screen which appears in the installation process of the operating system, available for new users and the interface is user-friendly. In addition to the new privacy experience, users are also allowed to review privacy settings at any time in Settings > Privacy.
Disclaimer: The information about lawsuit contained in this article is based on an article by Reuters. Windows Latest makes no claims, guarantees about the accuracy or completeness, contained in this article or linked pages (websites).