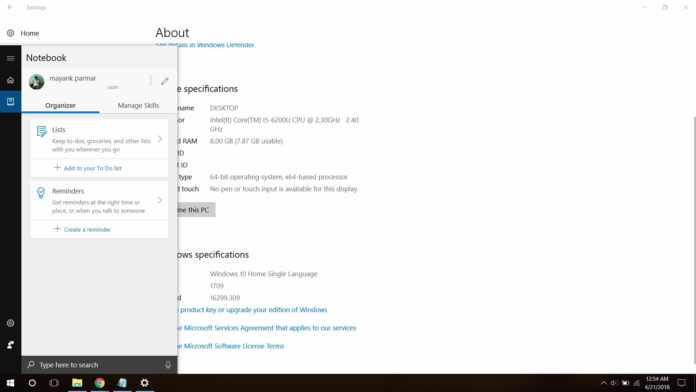 Back in December, Microsoft started testing a new design for Cortana's Notebook with a small group of Windows 10 users, enrolled in the Windows Insider program. Microsoft has quietly started rolling out the new design for Cortana Notebook on Windows 10 Fall Creators Update.
The new design is available for everyone including non-Insiders, but Microsoft is yet to officially confirm anything regarding the new design. The new Notebook design for Cortana isn't too different from the old design, the UX transformation introduces a new home called Organizer that lets you access your lists and reminders.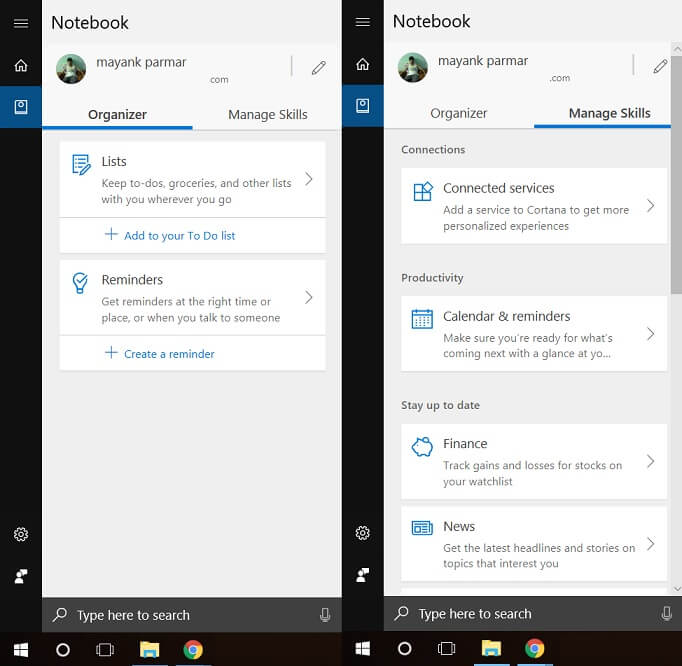 There's another page called 'Manage Skills' which allows users to easily configure Cortana features such as News, Weather and other Skills. Microsoft is using a Tabbed view to make sure that the content and skills can be easily discovered. It is worth noting that it is a server-side change and available only for those using English (United States) language.
The new Cortana Notebook look is less confusing and more organized. The new look is available for the Windows Insiders since a while. Microsoft has finally pushed it to the Fall Creators Update and non-Insiders.
In the past few months, Microsoft has updated Cortana with several other changes, and the company is expanding the features of the digital assistant to other platforms. Microsoft appears to be very committed to Cortana experience and functionality on both desktop and mobile devices. A report from The Verge recently claimed that Microsoft might be testing Cortana integration in Outlook app on Android and iOS. It goes without saying that integrating the digital assistant into the Outlook could improve the productivity of the users.
Microsoft recently launched Cortana Show Me app for Windows 10 with Redstone 4 which aims to assist users when they need up to set up certain functionality such as Bluetooth. Cortana in Windows 10 could offer instruction on specific settings like running a security scan and updating Windows 10.
Cortana was originally launched on Windows Phones and is currently offered on Windows 10-powered PCs, Android, iOS and smart speakers.