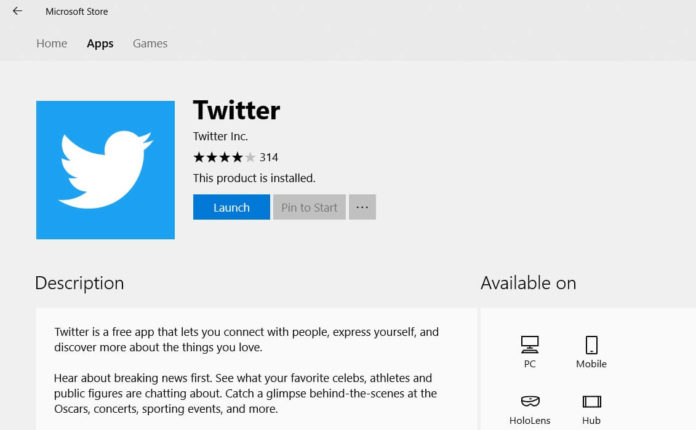 Twitter today pushed out a new update for its PWA app released for Windows 10 users. This is the first update released after the company made available the Twitter PWA app last week for Windows 10 users.
Twitter Progressive Web App is the first PWA app which was released in the Microsoft Store last week. The app brought lots of new features for the Windows 10 users which were not available in the Twitter UWP app for Windows 10 users.
The latest update for the Twitter PWA app comes with bug fixes and performance improvements. The developers have made sure to fix a request review bug which occurred every time the app was opened. This issue is now fixed and the users will not be getting any notification for review when they open the app.
The developers also fixed the issue with the EU cookie dialog which popped up constantly even after dismissing it. The latest update fixes the issue and the dialog will now remember once you dismiss the dialog.
Twitter has also added the ability to paste images from the clipboard in a tweet. This was the feature which was missing in the UWP application for Windows 10. The developers have made sure that the paste image feature is available for users in the new Twitter PWA application.
The other thing to notice is that Twitter has made all the new changes and introduced the features without having to submit an app update in the Microsoft Store. This would mean that the changes added to the PWA gets applied automatically to the Twitter Progressive Web App on Windows 10.
As we have reported earlier, the PWA app runs on any PWA supported platform and the changes applied to its Windows 10 application will be available also to the Twitter application on iOS and Android.
The company will be adding more features in the upcoming updates to the Twitter PWA which should be available for all users once Microsoft rolls out the Windows 10 Spring Creators update in a couple of weeks time.