PCmag.com had recently announced the results of their annual readers choice awards based on the survey conducted by them on their site for Smartphones and their carriers. There was a surprise entry of Microsoft's fallen Windows Phone OS in different categories. Even after Microsoft decided to not to continue with Windows 10 Mobile operating system and smartphones based on them they have performed really well in these awards.

And in some categories, they were neck to neck with Samsung Galaxy and Apple iPhone which were handed a majority of awards. In the survey of mobile operating system Android topped the list with a rating of 8.6 while Windows phone users who took part in the survey reported it with an average rating of 8.4. It was more than iOS which itself dropped one point from 2017 to 8.3.
Microsoft OS performed reached these ratings based on ratings assigned to them by users on various sub-categories and to be really honest Microsoft Windows phones actually had many useful features and was quite unique on its own. But because of their lack of good quality apps on the Windows store and to a certain level Microsoft being not able to bring on developers on the Windows Phone platform were definitely a few reason for the demise of this beautiful OS.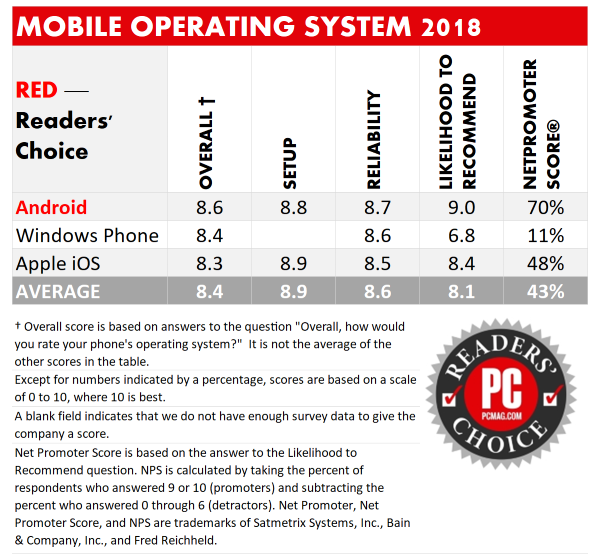 It was also seen in these surveys where they were ranked badly on the availability of apps (5.4) and also the demise of the OS persisted users to give 6.8 rating in the "likelihood to recommend" sub-category. Well, it still feels really good when we see Windows Phone users are satisfied with their OS on at least certain dimensions of smartphones OS which Android and iOS doesn't offer. You can see the full list winners in different categories here. How do our readers feel about these PCMag.com Readers Choice Awards? comment below.