AdDuplex claims that the adoption of the Windows 10 Fall Creators Update is going well, apparently, because the Fall Creators Update rollout is complete. Devices running any previous version of Windows 10 operating system are now allowed to upgrade to the latest release.
According to new data provided by AdDuplex, 85 percent of all Windows 10 devices already running the latest version. AdDuplex says adoption of the Windows 10 Fall Creators Update is going well and "has reached now 85% of PCs."
Windows 10 version 1703 (Creators Update) is still in the second position with a share of 8.1 percent, while on the other hand, Windows 10 version 1607 (Anniversary Update) is third with 5.1 points, it has become the third most widely used version.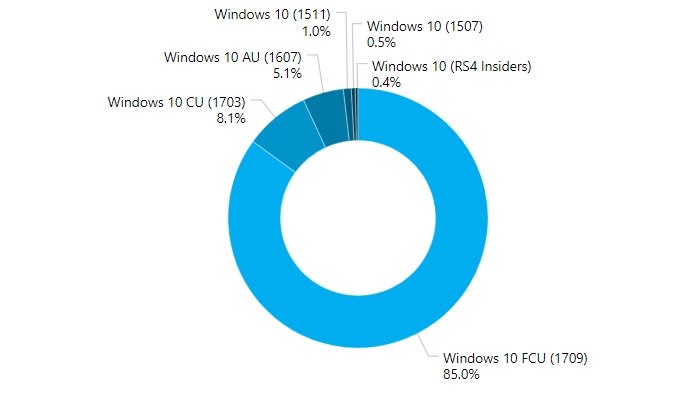 "Two months ago FCU jumped up by 30%, last month by about 20% and now it added another 10%. The growth is obviously slowing down as the next update is imminent," said AdDuplex, the largest cross-promotion network for Microsoft Store apps and games.
AdDuplex hasn't detailed the market share of Windows 10 Mobile versions and Lumia devices. The company has however published a data showing the market share of Surface devices running the operating system, apparently the newer the device, the bigger the chances to run the Windows 10 Fall Creators Update. The only exception is the Surface Pro 4 which is in the first position with 34.6 percent share, while the 2017 Surface Pro is now the third most popular Surface worldwide with a 13.3% market share, and Surface Laptop is at just 1.9 percent.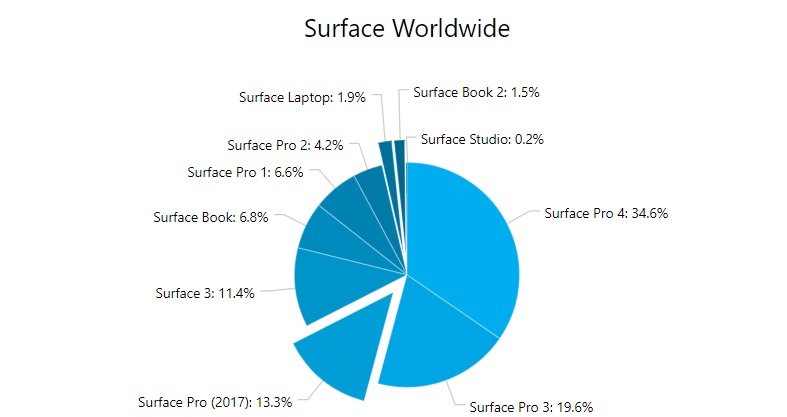 "The new Surface Pro continues to grow and is now third, while Surface Laptop is still stuck at 2% and doesn't seem to be going anywhere," AdDuplex said.
Microsoft is now finalizing the release of another Windows 10 update, codenamed Redstone 4 (Spring Creators Update). The RTM version of this operating system will be ready in March, and the update will be released to the general public in April.