At the Windows 10 launch event, Microsoft made it clear that they are shifting Windows strategy to Windows as a Service. Although the strategy does somewhat work for the consumer but with the enterprise, Microsoft did not enjoy much success so far. With the launch of Windows 10 S Microsoft's Windows as a service approach became more visible.
According to Microsoft vice president Brad Anderson, upgrades to Windows 10 are happening at much more faster pace. There is at least one upgrade take place every second from the previous version of Windows to the Windows 10. Brad recently shared this information on his Twitter account.
Microsoft has a tool called ConfigMgr (also known as SCCM) which is a system management software product for managing computers running different OSes. Microsoft expects the upgrade rate to increase in future days at a more rapid pace as Windows 7 support ends in 2020.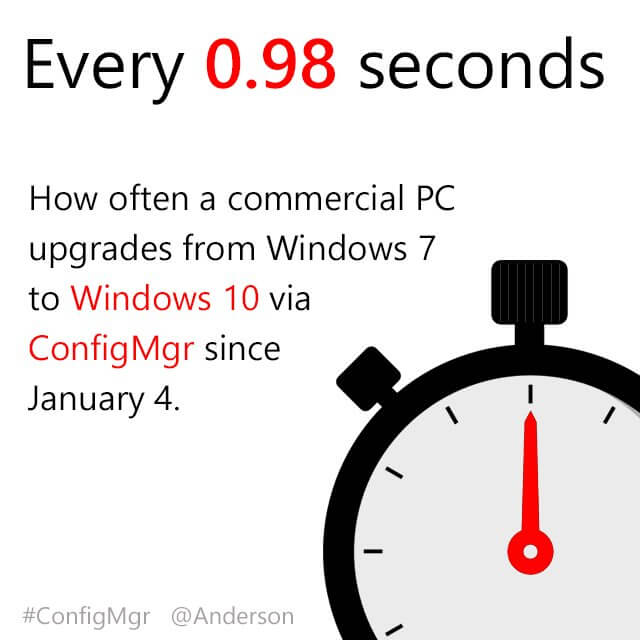 The claim is solely coming from Microsoft's Brad Anderson and no other farms are saying the exact same thing. Although Windows 10 is growing and it recently beat Windows 7 in terms of popularity but we are not sure whether the upgrades are happening that frequently or not.
The software giant is making Windows 10 better with each release. The company is currently working on Redstone 4 which is expected to ship sometime in the month of March this year. As Windows 10 is getting better with each release the consumer interest is gradually increasing towards Windows 10. According to Microsoft, with each release of Windows 10, more people will be coming to the new operating system.