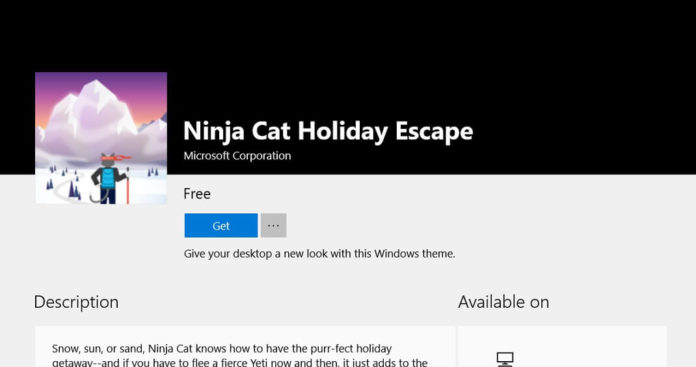 Microsoft has today released new wallpaper for Windows 10 PCs and Tablets. The new Ninja Cat Holiday Escape wallpaper is now available for download on the Microsoft Store. As winter is here, Ninja cat's adventure will be in the snowy areas most of the time.
The new theme contains 14 set of different wallpapers, which will give your PC some winter feel. Mind you that these images are to be used as Desktop wallpapers only. This theme will not change your default accent color or sound.
It does not need heavy specs, they will be available to download to almost everyone running Windows 10 Build 14951.0 or higher. x86 machines will also be available to download these wallpapers. With these wallpapers, you can witness Ninja Cat's greatest moves, from dogsled under the northern lights to monster truck across the Outback in Down Under.
You can install any new themes by navigating to the Settings app -> Personalisation -> Themes and click on more theme option, which will open the Microsoft Store and from there you will be able to download the desired theme of yours.
Getting people into the Store is of paramount importance for Microsoft and the company is doing everything to convince users to at least access the store by releasing various interesting stuff into it.