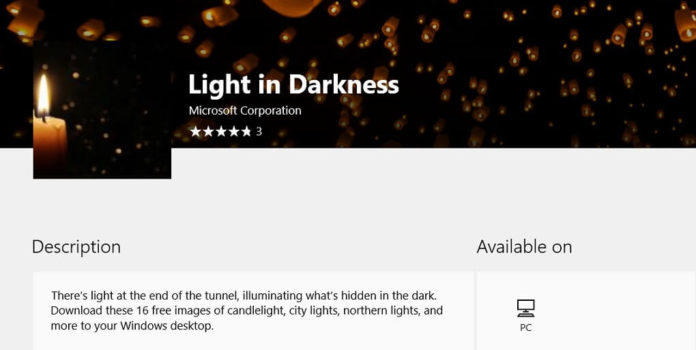 Microsoft's vision with Windows 10 is quite clear with their frequent improvements to the OS. Microsoft is making Windows operating system better than rest of the other rivals. The company is not only focussing on productivity front but also in the look and feel of the entire OS. Back in 2016, the company introduced the new Fluent Design system to improve Windows in terms of look and feel.
Microsoft today released a new set of wallpaper in the Microsoft Store named 'Light In Darkness' and it is now available for download on Windows 10. The wallpaper pack includes 16 images of candlelight, city lights, northern lights, and much more. Microsoft has released the wallpaper pack to the devices running Windows 10 Build 14951.0 or higher.
"There's light at the end of the tunnel, illuminating what's hidden in the dark. Download these 16 free images of candlelight, city lights, northern lights, and more to your Windows desktop. These images are to be used as Desktop Wallpaper only," the company explains.
The theme or wallpaper, however, does not change your accent color or sound. It will only give your PC a fresh new feel with new wallpapers. Themes and wallpapers are nothing new in Windows though but Microsoft excluded the option to install new themes when Windows 10 first debuted. However, they brought back the capability with Windows 10 Creators Update earlier this year.
You can install new themes by navigating to the Settings app -> Personalisation -> Themes and click on more theme option, which will open the Microsoft Store and from there you will be able to download the desired theme of yours.