Windows 10 keeps improving its market share, and the latest data published by NetMarketShare for the month of November 2017 shows the the operating system achieved a share of 31.95 percent. It appears that the Windows 10 Fall Creators Update features managed to attract the users, as they are now finally upgrading to Microsoft's latest operating system.
The increase in market share of Windows 10 coincides with a decline recorded by Windows XP last month, as the operating system fell from 7.64% percent in November to 5.73%.
On the other hand, Windows 7 continues to be the most used and popular desktop operating system, the market share of the unsupported operating system increased to 43.12% from 43.05%.
Despite Microsoft's aggressive Windows 10 push, the operating system is not growing at a very good pace. Windows 10 growth isn't the sprinting power house Microsoft would like it to be.
The research firm puts Windows 7 on the first place of desktop operating systems, and Windows XP continues to be the third most popular desktop operating system with 5.73% market share points. Windows 8.1 has slightly better market share than Windows XP.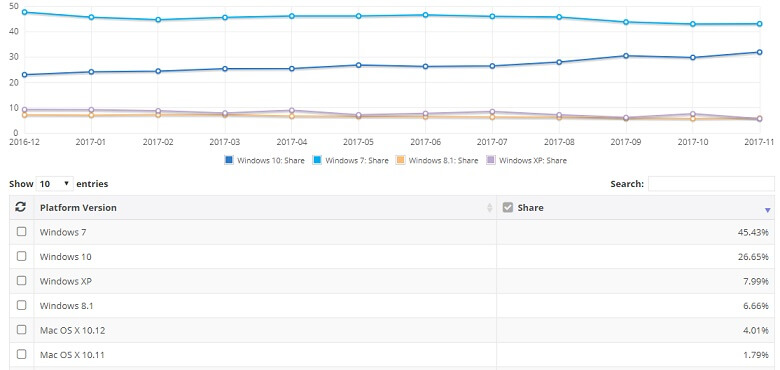 As the Fall Creators Update for Windows 10 is now available and the Redstone 4 release with major changes is due, the increase in market share of Windows 10 is expected to continue in the next months.