Last month, Microsoft began rolling out the Windows 10 Fall Creators Update and according to AdDuplex, the new version of operating system is already installed on over 20.4% of PCs. It's worth noting that the data is based on around 5,000 applications that use AdDuplex SDK. "After a month and 10 days on the market, Fall Creators Update is installed on every fifth PC," AdDuplex claims.
So far the Windows 10 Fall Creators Update adoption rate seems good, last month the Fall Creators Update was on 5.3% of Windows 10 devices and now it's reached 20.4%. The growth rate of Fall Creators Update appears to be better than the Creators Update, after a month and a half, the Creators Update was installed on just 18.1% of PCs.
The Redstone 4 preview builds are already running on around 0.4% of PCs. On the other hand, the Windows 10 Creators Update is now on 63.5% of PCs, down from 74.6%. As you'd expect, Windows 10 Anniversary Update dropped to 13.6% from 17.3%. The Windows 10 version 1511 and 1507 are still on 1.5% and 0.6% devices respectively.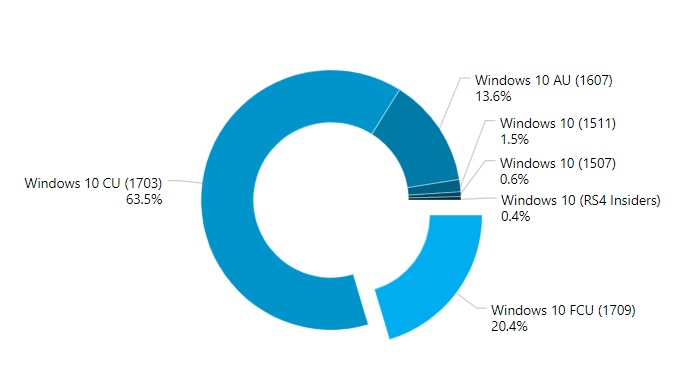 "This report is based on data collected from around 5,000 Windows Store apps running AdDuplex SDK v.2 (and higher). The raw data analyzed was collected over the day of November 27th, 2017 (UTC time) unless otherwise stated," the company said.