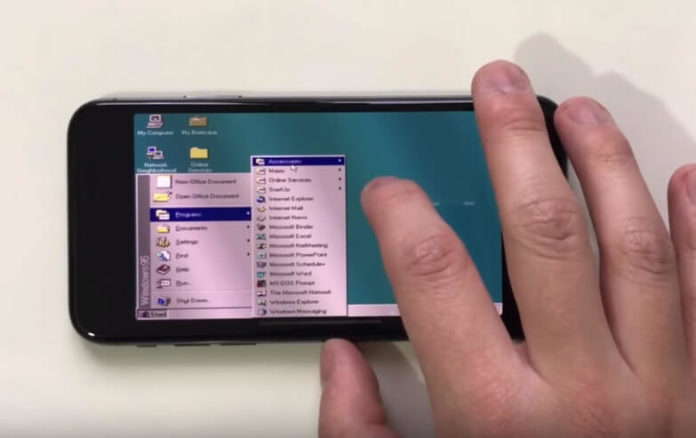 Back in September, Apple officially launched the iPhone X with a long list of new features. The iOS mobile operating system is used to run iPhone X, but for those that think iOS is somewhat boring, a programmer has managed to emulate Microsoft's Windows 95 operating on iPhone X. The big screen of the iPhone opens a new world of possibilities when it comes to hacking and emulation.
In 2014, a developer successfully installed Windows 98 operating system on iPhone 6 and he even published a tutorial. Another hacker recently published a video showing off the Windows 95 on iPhone X, the operating system is however not compatible with the notch screen.
The iPhone X, running Windows 95 is capable of launching SimCity. As the device is running Windows 95, it can also launch Microsoft Word and some other applications. YouTuber "Hacking Jules" has published five minutes long video, it shows an iPhone X being used to start Windows 95
It has an on-screen cursor operatable with touch and of course, the touch gestures working as you might expect. The hacker also shows the Microsoft Word working well with on-screen keyboard and text input. Jules uses the PowerDOS emulation for running Windows 95.
Surprisingly, the iPhone X runs the 20-year old Windows 95 operating system really well without any glitches, apparently because the operating system supports touch input and is well-designed.