Windows 10's default browser Microsoft Edge market share has collapsed once again as more and more users switch to Google Chrome. The latest data from NetMarketShare has revealed that Microsoft Edge is collapsing, while we were expecting things to improve. Back in September, Microsoft Edge market share started to collapse and the same trend continued in October.
On the other hand, Google Chrome is growing as more and more users are ditching Microsoft Edge. Last month, Microsoft Edge dropped to 4.58 percent from 5.15 percent. The market share of two months (September and October) shows that Microsoft Edge has lost 1.08 percent.
Google Chrome market share has increased to 59.84 percent from 59.61 percent, Chrome is still the most-used web browser. If the trend continues, Google Chrome will surpass 60 percent market share next year.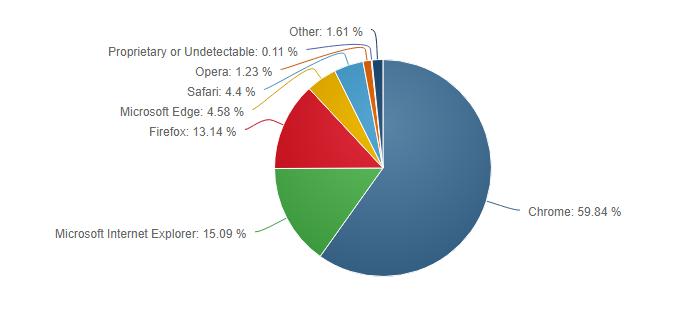 Despite the fact Microsoft is committed to the Edge browser, it is not able to attract the users. Windows 10 Fall Creators Update has however improved Microsoft Edge with new features and Fluent Design changes. In terms of look and extension security, the Edge browser is still superior to Google Chrome but it is lagging behind Chrome in the performance section.
As Microsoft has also launched the Edge browser for iOS and Android, the browser's market share should increase. It remains to be seen whether or not the adoption rate of Microsoft Edge improves in the coming months.