Windows 10 Fall Creators Update is not only adding Fluent Design, Story Remix to the operating system but also improving the existing apps such as the Windows Maps. Microsoft in a blog post has addressed the new features Windows Maps is getting with the Fall Creators Update.
Microsoft's Pablo Candelas Gonzalez has explained that Windows Maps is not only getting performance and visual improvements, the company is also adding new features and APIs to the application. New features include the ability to import 3D models into the map, 3D buildings and more.
3D Buildings
Microsoft is improving 3D Buildings in Maps app with corrections to the buildings that didn't look legit and as well as adding new buildings. Microsoft admits that the 3D buildings were missing in the previous release, while the company is finally adding new ones with the Fall Creators Update, the team is also working hard to bring even more 3D buildings in the coming months.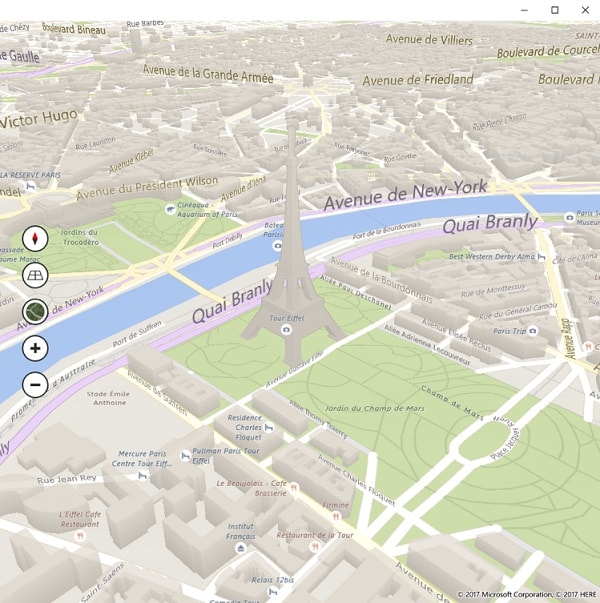 3D Objects
Microsoft is adding MapElement3D, MapModel3D APIs to import and display 3D objects, it could be a 3D car, planes and the list goes on. In the screenshots, Microsoft shows the 3D avatars, cars and clouds.
Map Layering, Map Styling and Place Info APIs
The new MapElementsLayer will be able to manipulate groups of elements as an independent user. Microsoft is also extending the current set of Map Styling APIs, meaning that the developers can take advantage of the new APIs to launch UWP apps with more capabilities.
It can be used to customize the appearance of the map elements. It basically lets you make get the map elements to the base map, for example, the water element. Lastly, the Place Info API will allow you to see the information without being dependent on the context menu.