Microsoft Edge is the default web browser that comes with Windows 10. Codenamed Spartan, Microsoft Edge is fast, smooth and has a modern interface. It offers some features not found in browsers such as Chrome and Firefox, tools like Cortana integration, webpage markup are the key features of the browser.
Despite Edge is a good browser, Windows 10 users are more interested in Chrome and Firefox than the default browser Edge. It appears that Microsoft wants to improve Edge browser and the company may be planning to launch a sperate Insider Program for Edge.
Edge Insider Program will help Microsoft improve the browser as the testers will provide feedback to the company. At the moment, Microsoft is asking the Bing Insiders to fill a survey and on the basis of the survey, Microsoft might announce Edge Insider Program.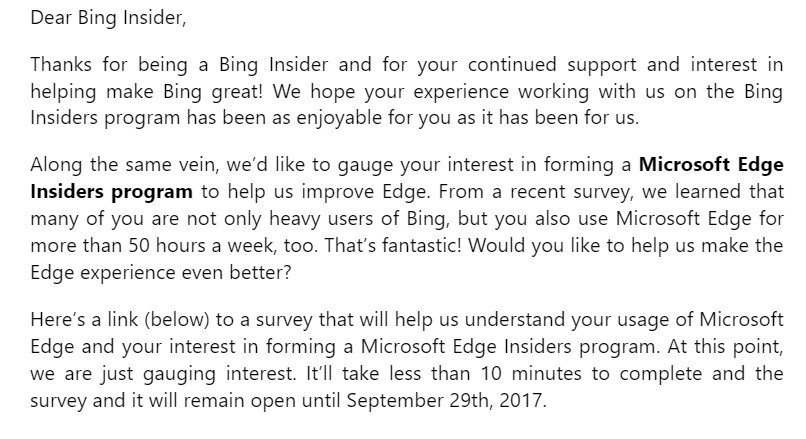 Edge Insider Program sounds odd as Microsoft already have the Windows Insider program where the user tests the preview builds on their PCs. The PC builds also includes new features and improvements for the Edge browser. It could be possible that Microsoft has mistakenly mentioned the Edge Insider Program in the email. However, it remains to be seen whether or not Microsoft will announce the Edge Insider Program.