Microsoft has announced the new features for the Photos app at the Build 2017 keynote. The new feature was called "Story Remix"  which allowed users to make a video from photos and take clips from videos. You can also add music or text to your video that is made from photos.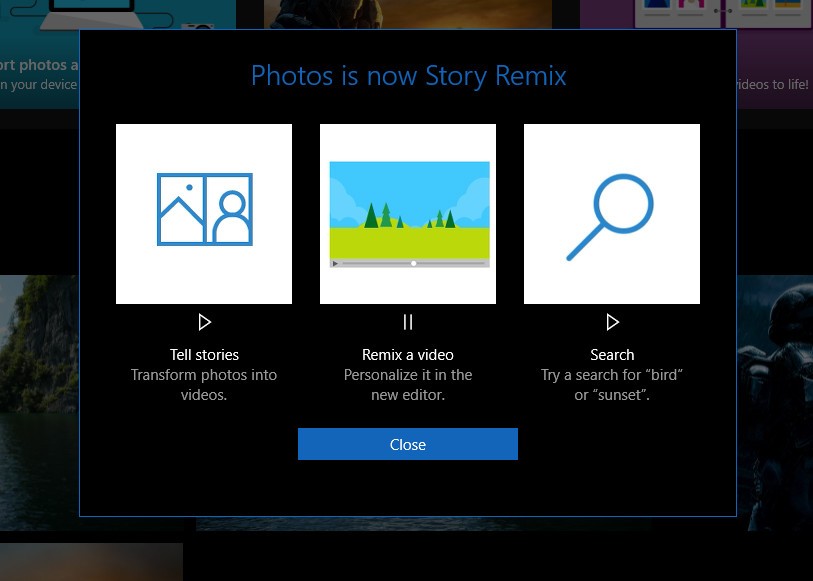 Microsoft had today updated the Microsoft Photos app and renamed the app "Story Remix". The update is available only for those insiders who had selected the skip ahead branch in redstone3 builds which is now providing them the redstone4 builds. Apart from this naming surprise, there isn't anything mentioned in the "What's new" box.
While Microsoft has said they are currently testing out new names for the Photos app and this name change to "Story Remix" is not the final one. Users feedback will be taken care of in the final naming for the Photos app.
We are actually testing a few different name choices for the Photos app with #WindowsInsiders. Naming is not yet final 🤠Give us feedback! https://t.co/xVLbLN3L9F

— Brandon LeBlanc (@brandonleblanc) August 18, 2017
Yesterday we had reported that some of the new and exciting 3D features of the "Story Remix" announcement at Build 2017 won't be rolled out with the Windows 10 Fall Creators Update rather those will come out after the release of the Fall creators Update.
What're your views on this new name for the Photos app?