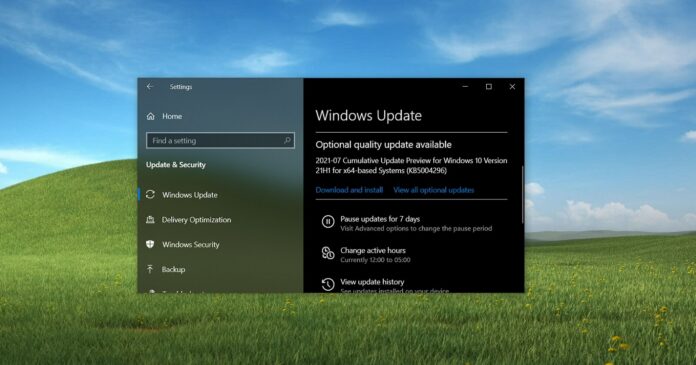 As part of the servicing model known as "Windows as a Service", Windows 11 and Windows 10 versions receive monthly updates with security and general fixes.
There are mainly two types of Windows Updates: "feature updates" and "quality updates." Each one delivers a different set of bug fixes or features, and quality updates cannot be skipped. For example, the Patch Tuesday update is installed automatically unless you manually pause updates using Windows Update or Windows Update for Business.
For both Windows 10 and Windows 11, the "B" security update is released on every Patch Tuesday, while the optional quality update is released in the third or fourth week of the month. These updates contain important bug fixes and they're delivered during a specific time period.
If you pause or skip updates, this can result in a backlog of updates and increase the size of update packages. For better performance of Windows Update, Microsoft has now started removing older quality updates from the Windows Update server and these removed updates will appear as "expired updates".
The older and redundant packages will now expire automatically, which can improve the performance of Windows Updates and reduce update cache size. The older updates are superseded with newer updates, and this would result in shorter scan times of Windows Updates.
Thankfully, cumulative updates (Patch Tuesday) include fixes from all older updates that have been published for the operating system. If an update package has expired, you would still receive the fixes contained in the expired update package when you install the latest Patch Tuesday release.
An expired package will not appear in Windows Update scan results and it can also reduce internet data usage, which is particularly important when you have a limited internet connection.
"This KB is no longer available from Windows Update, the Microsoft Update Catalog, or other release channels. We recommend that you update your devices to the latest security quality update. The latest security quality update is cumulative and contains all the addressed issues in this update," Microsoft noted in an updated document.

Windows Updates are evaluated for expiration on a regular basis and "expired" status would appear on Microsoft's website, as shown in the above screenshot.
Update Stack Pages for Windows 11
For Windows 11, Microsoft is also testing a feature called "Update Stack Packages" which is being touted as a new way to deliver improvements before a big patch is deployed. With the new "Update Stack Package", Microsoft can deliver improve some areas of the OS before shipping monthly or feature updates.
The first Update Stack Package was released alongside Build 22478 for Windows Insiders and it is currently available for a limited number of users with no noticeable changes.