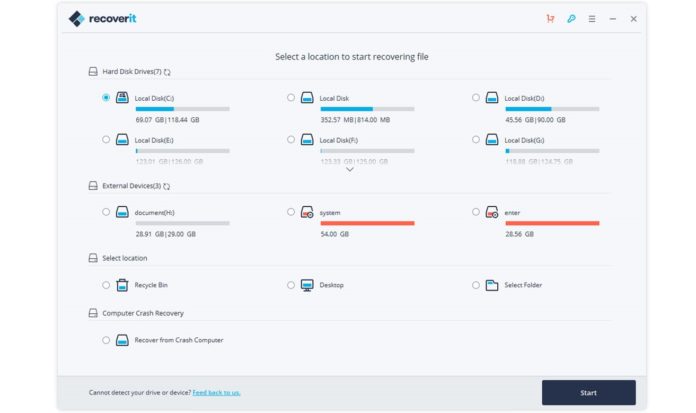 In the modern age of digitisation, it is important to seek out a trustworthy data recovery system that secures the contents within a workstation. Corrupted memory cards, hardware malfunction, cyber viruses, file misplacements and accidental deletions are just some of the real-world problems that threaten the data of computer users, destroying hours of hard work.
There are many file recovery tools available in the market and selecting the perfect one can pose quite a challenge due to the wide array of available options. Since an ineffective program will leave your missing files unrecoverable while wasting lots of precious time in the process, it is important to thoroughly examine the features of each software to ensure it truly delivers before committing to it.
In this article, we explore and assess the functions of Recoverit, a program that provides a series of available file recovery functions for a variety of file-types.
Multi-Purpose
The system is easy-to-use. One thing that quickly catches the eye of the user is the numerous available recovery options that are readily accessible upon logging into the software. The functions include system crash data recovery, which is essential in situations whereby workstations lose important files due to sudden system crashes. The function restores files to their original form.
Other useful recovery modes include virus data recovery, which helps systems restore earlier files that had been damaged by viruses, as well as the external device recovery function, which can restore content from corrupted SD cards and faulty thumb drives.
I was able to successfully retrieve some images that I had emptied from the recycle bin through using the trash recovery function. Recoverit was of great help since I required the image for a design project, and it was the only soft copy left.
There are many powerful recovery methods in all, which provides users with a comprehensive arsenal to restore missing or damaged files under most emergency situations, catering to the unique needs of the user
Ease-to-use
Upon downloading and accessing the software, there is a clear layout of hardware drives within the computer, which allows a quick and effective recovery of specific files.
Additionally, users may consider scanning through the file history of specific locations such as the recycle bin and desktop, where a bulk of recoverable files may be found.
Here I tested the software by trying to recover some images located in the folder, C:\Artwork Design\FinalDrafts\2019.
As I only required the files that fell under this path, I applied the "Select folder" option in the interface to narrow down the search within the designated directory.  This feature speeds up the file recovery process because once you make the selection, only contents that fall specifically under the selected path are scanned.
I also tried scanning the entire C drive, but the scan took a much longer time since there were loads of files stored within the drive. What's worse, it gets more difficult to locate the missing files because you need to find the specific path in a step-by-step process which can be tedious
File recovery can be a stressful and complicated process, but this was not the case with Recoverit.  The tree view situated in the left panel of the software was easy to navigate via two modes: "view by directory" or "view by file type", which conveniently groups files based on their respective categories (audios, videos, databases, documents, etc) for easy sorting and access.
Also, the scanning process can be paused at any time once you have spotted your missing file within the search results. This feature prevents users from having to sieve through mountains of recovered data in search of their specific file. The search results may also be sorted based on file category such as documents, DataBase or webfiles.
Cons
As with any software, there are some drawbacks. For instance, although many file types are recoverable with Recoverit, I failed to access the previews for all file types. When I attempted to recover a video game client launcher, the Recoverit notified me that the format was unsupported and informed me that I had to recover the file before viewing its preview, which defeats the purpose.
Additionally, when selecting the directory where the missing files were to be recovered, there was a lack of a proper search bar. Instead, I had to click and navigate through the respective folder step by step, click by click, which may be a tedious process in computers with many directories.
The biggest issue for me, however, is that not every file is exactly recoverable. I attempted to recover a portable network graphic (PNG) from the lost location (files that have presumably disappeared due to transfers and missing directories) partition of the Recycle Bin. Although the file was successfully recovered, it could not be executable as it was identified as being corrupted or incomplete.
So, although the software technically allows you to recover files that have gone missing, they may not be recovered in their full glory.
Verdict
The software wins points for its easy-to-use interface and multipurpose functions while also working quickly without any setting up. At the end of the day, it is really useful to have a software like Recoverit on standby, allowing busy tech users to easily retrieve missing files and salvaging devices that have been compromised by an accidental deletion or virus, as and when they need to.
On the downside, the file recovery function is not comprehensive and requires further development. Hopefully in future, more file types will be made recoverable with Recoverit. Also, I believe that it is important for users to preview every file before engaging in recovery so we are more assured about recovering the right file.