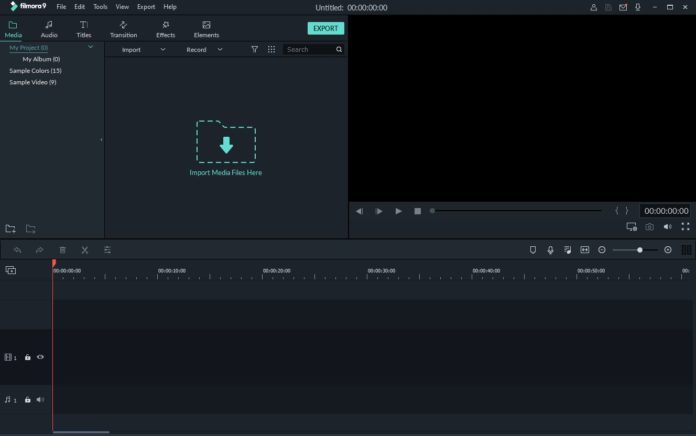 There are tons of paid and free video editing software for Windows that will help you produce your best possible work. If you're ready for something advanced, it's worth giving a try to Wondershare's latest Filmora9 video editing product that offers high-end extras like stock audios, videos transition, Chroma keying editing, and a lot more.
When it comes to buying video editing software, you might be looking for a program that meets all your requirements and also help you make your life easier in every way. The Wondershare Filmora team now offers 2 video editing software, the Filmora9 for beginners and semi-pros, and the FilmoraPro for professionals who have video editing knowledge and experience in using Adobe Premiere Pro. If you're looking for a straightforward, affordable and video editing software without missing out on the basic or advanced features, Wondershare Filmora9 could be your possible bet.
Wondershare Filmora9 comes with smart themed filters and effects to make your video clips look incredible without any effort from you.
Today, we are reviewing Filmora9 and we will also discuss its features in this article.
Filmora9 review
You can use Wondershare's Filmora9 to edit your videos or to use slideshow functionality that combines photos and videos, then you can apply effects, transition and filters to turn clips into incredible content.
It's actually very easy to use Filmora9. It has simple and easy to understand user interface. You've to create a project, import videos, select the filters, effects, audio from the stock library and the software takes care of the rest.
If you use the free version of Filmora9, the exported videos would have watermarks that cannot be removed unless you upgrade to the premium version of the software.
Overview
Filmora9 opens with a screen that has two options – Create a new project and open an existing project.
If you select a new project, Filmora9 will open with the video editing interface. You can upload media and start editing the video clips.
Everything is well organized, there's a media section where you can drop all your media contents. The app has sections for Audio, Titles, Transition effects, elements and more. You can open the audio section to customize the audio and sound effects of the video clips and you can also add transition, filters, and overlays effects.
Fortunately, Wondershare is bundling a lot of stock clips that you can use at the beginning of your project. Similarly, you'll also find stock audio, effects, transition, elements and more.
It also supports keyboard shortcuts which are similar to the shortcuts of the popular editing tools, so you don't have to learn new keyboard shortcut layout if you are switching from another product.
Another great functionality of Filmora9 is the ability to import media from online platforms such as Facebook and Instagram. You will get access to a plethora of options, including the ability to record your videos instantly using a webcam.
Making videos with Filmora9 on Windows is easy: import your video footage to the media library first, and drag-n-drop these media files to timeline in order, do some basic trimming or cutting, add titles and texts, apply transitions, filters, overlays etc. Preview and then export the video into different formats or share to social media directly or burn to DVD.
User interface
The interface of Filmora9 simply elegant, it is geared toward beginners, casual users and professionals.
The main homepage provides complete control over your video project. You can edit your video by dragging and drop the effects, audios and clips.
With just one top, you can access a set of features and effects that are designed to enhance footage and make use of slow-motion effects, sharp transitions or similar
Filmora's full editor resembles the look that you'll see in most video editing application. It features a three-panel layout for source video, timeline, and preview.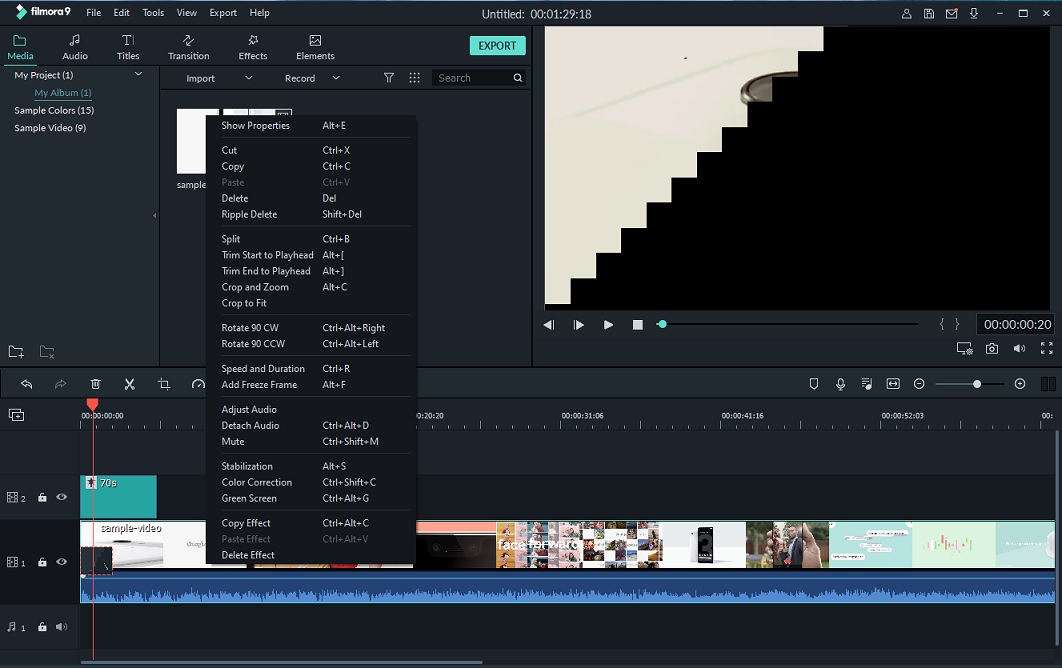 The timeline is across the bottom and the background is dark. When you add another video clip to your main one, the track is also added to the timeline so you can keep overlaying. It's a great way to monitor your effect overlays and you can drag or drop where you want them.
I also like how the app quickly resizes its window, this actually helps if you plan to multitask on a large monitor.
One of the biggest surprise in the latest Filmora9 version is that you can now adjust the track height, this is very useful when you editing audios based on waveform. Besides, you can now add up to 100 video tracks and 100 audio tracks in the timeline, which is much more convenient.
Transition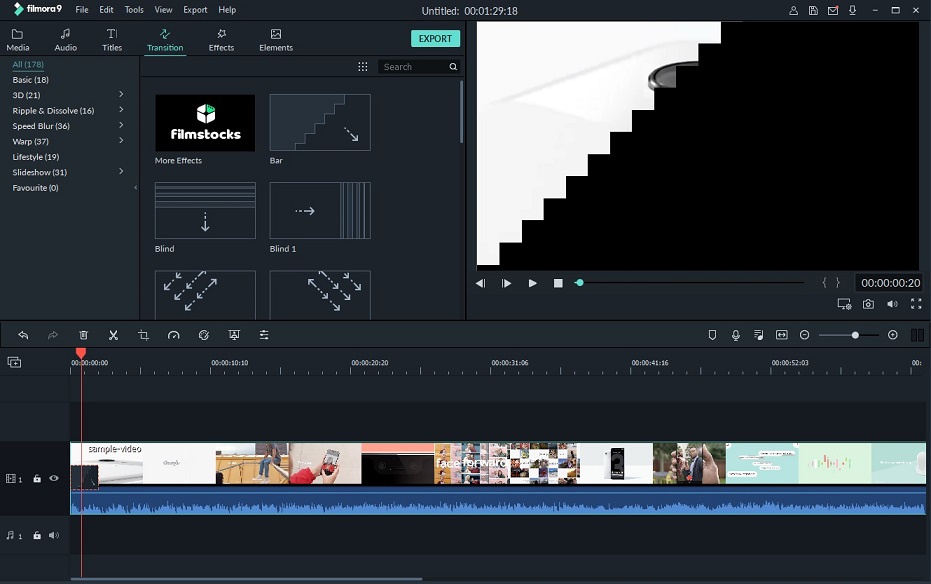 Filmora9 has more than a hundred of transitions and you can search for them by name as you can in other video editing software. If you like a transition, you can right-click and add it to favourites.
To apply a transition, you've to click on the plus sign in the middle of its thumbnails. Once clicked, Filmora places transition over the nearest clip boundary and you can always edit the amount of time a transition uses by dragging its edge.
Effects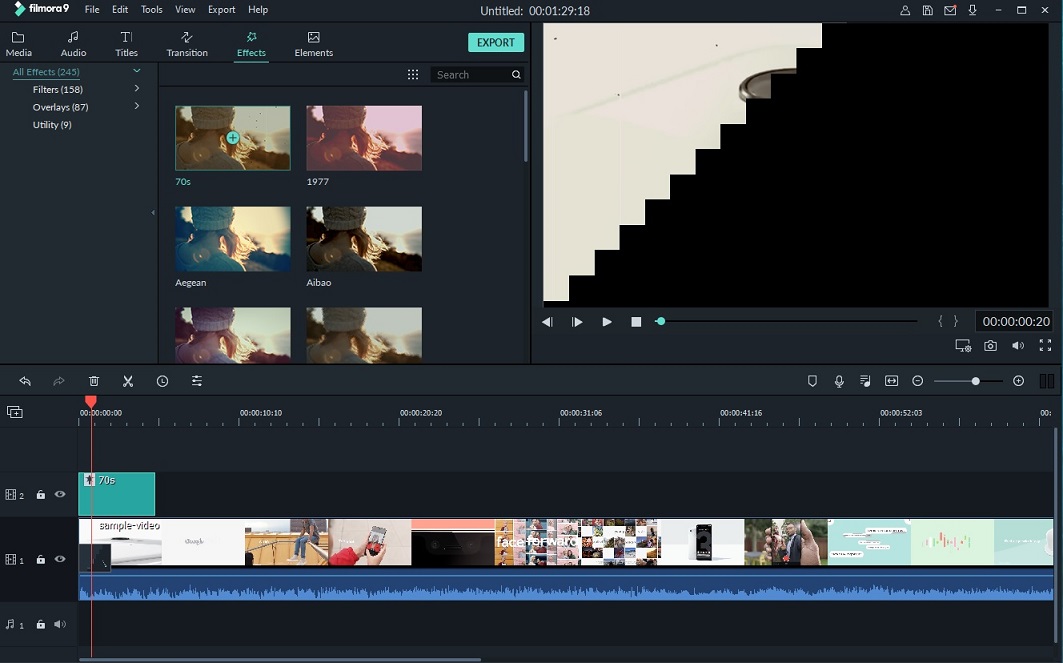 Similarly, Filmora9 offers tons of filter effects which can add to your video. Distortions film style and light leak overlays are also included, but motion tracking isn't available.
You can also buy more effects, objects, templates, and more colour filters from Wondershare Filmstocks online store.
Audio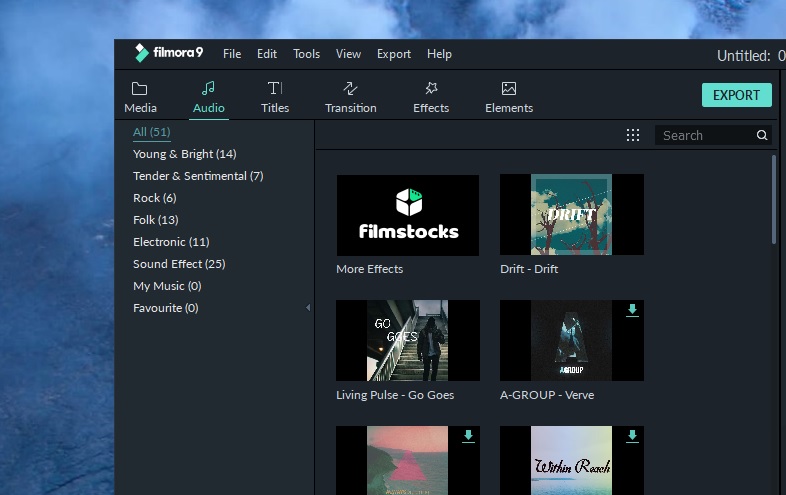 A video without audio is soulless. Filmora9 has its own music section that includes 51 backgrounds which you can add to your video clips. To make it simpler, background songs have been organized into categories like Young & Bright, Tender & Sentimental and Rock.
You can apply sound effects or add your own music or add stock music to favourites for future projects.
Performance

Video editing applications are resources hungry, but Wondershare has optimized Filmora to work smoothly on mid-core hardware.
We've tested the software on a PC with Intel Core i5, 8GB of RAM, SSD storage and multiple Google Chrome tabs running in the background, and the performance is decent.
The Filmora9 also supports creating smaller proxy media files for smoother editing in handling 4K large video footage. One of the best benefits of using proxy file is you can preview and edit 4K video footage in lower resolution but without affecting the export quality. For short videos, Filmora9 is stable, but you may notice minor delays or lags if you edit an hour long movie on low-end hardware.
Extra features
Besides the built-in presets and effects in Filmora9, more video effects, video footage and sound effects and music tracks are available on the effects store Filmstocks. Filmstocks stock media library offers a large set of features and effects that are designed to enhance footage.
For example, you can download Sport theme to add slow-motion effects into your videos or you can also use Love which applies star wipes and speckle your video with animated hearts
Pricing
Filmora9 is a premium product but you can also use it for free without limitations except there will be a Filmora Logo on your exported projects.
The price of Windows version is $39.99 (1-year license), $59.99 (lifetime license) and $79.99 (1 Year Filmora9 License + 1 Year Filmstocks Standard Plan: unlimited downloads).
Conclusion
For the price and performance, Filmora9 is a good deal. The software is regularly maintained by the company and big updates are released every few months with new effects and features.
It also offers lots of nifty effects, text tools, and filters at the starting price. The rendering speed is also good and the app does perform smoothly on mid-range hardware if a short video is edited.
The overall rating of Filmora 9 from us is 3.7 stars out of 5.
Filmora9 is reasonably priced and if it meets your requirements, you can try it for free from here.