With the rise of creators on YouTube and other streaming websites, video editing has become a very popular and coveted skill. If you are planning to make a career out of video editing industry or film production, you've to begin with a good video editing software.
The quality tools vary greatly and selecting the right tool could be difficult for many users. In this article, we've included three video editing apps that are worth checking out.
The easy to use video editing software can produce a high-quality video without expertise. You'll find various software depending on your goals and budget.
In this article, we've picked out the video editors that are easy to use with all basic features.
Best easy to use video editing software
Our favourite is Adobe Premiere Pro CC as it comes with all the features that you'll find in other apps. Adobe's solution is available for both Windows and Mac. This could be helpful if you often switch between two operating systems to work on your projects.
Adobe Premiere Pro CC
You may have already heard of Adobe Premiere Pro CC for good reasons. The Premiere Pro has all the features that you can think of and it has also a clean or familiar interface.
Another amazing part about using Abobe's solution if the ecosystem. Adobe' other services are also compatible with Premiere Pro and you can integrate. For instance, Adobe Audition works seamlessly with Premiere Pro. You can also work on After Effects and it will play nicely with the Premiere Pro.
Adobe Premiere Pro gives you access to some of the best creative tools out there.
We recommend Premier Pro over any other video software because of its ecosystem and clean user interface.
CyberLink PowerDirector
The elegant and simple design of CyberLink PowerDirector makes the video editing process truly fun. It's entirely up to you how you would use the app as it offers both simple and advanced video editing features.
You can automate the entire video editing process with Magic Movie Wizard. Or you can manually try other modes, insert effects, audio, transition.
PowerDirector is expandable via plugins and comes with an easy to use user interface. PowerDirector is highly recommended and you can check it out from here.
Filmora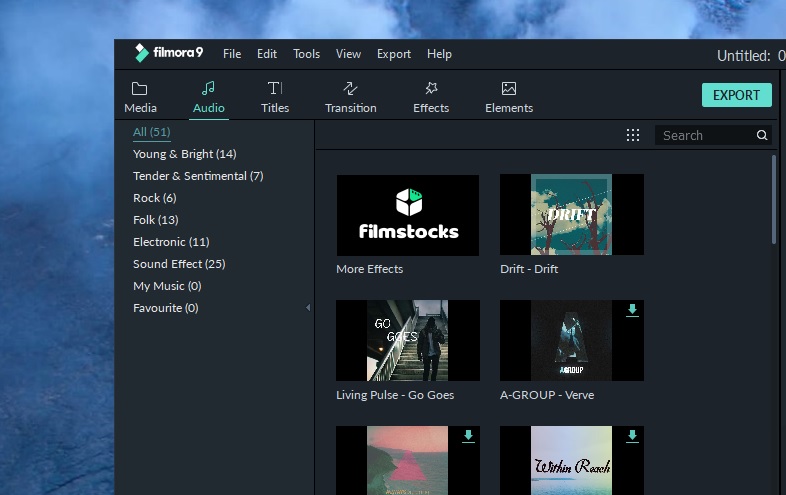 Filmora video editor has re-branded as Filmora9 video editor which has got much better and elegant with the latest version. As mentioned in our review, producing a video with Filmora9 is easy; as you just have to create a project, upload your media content, add effects, audios or choose a theme and the software takes care of the rest.
Filmora9 is also available for free without limited feature, but the exported videos are watermarked unless you upgrade to the premium version.
You can use Filmora9 to improve your average video with just a few clicks. There are a variety of animated title & text templates, video graphics, elements, and effects as well as royalty free audio library.
Wondershare has its own stock media library named Filmstocks where you can download and try various video effects, animated graphics, royalty free music, and sound effects, transition as well as stock video footage and image to give a new life to your videos. One of the best news is that some of the items are totally free to use.
It's worth giving a try to Filmora9 because of its simplicity, features and easy to operate interface.