Microsoft yesterday reported its financial results for the FY19 Q2 which shows the company's increase in revenue. Unsurprisingly, the financial growth this time is the result of the company's cloud strategy.
The company posted revenue of $32.5 billion which is an increase of 12% from the previous fiscal year. As a result, the company's net income has jumped to $8.4 billion.
The company's investment in the cloud business continues to bring rich dividends with Azure posting an increase of 76%. The company also declared that the Server products and cloud services have jumped to 24% with Intelligent Cloud reaching $9.4 billion.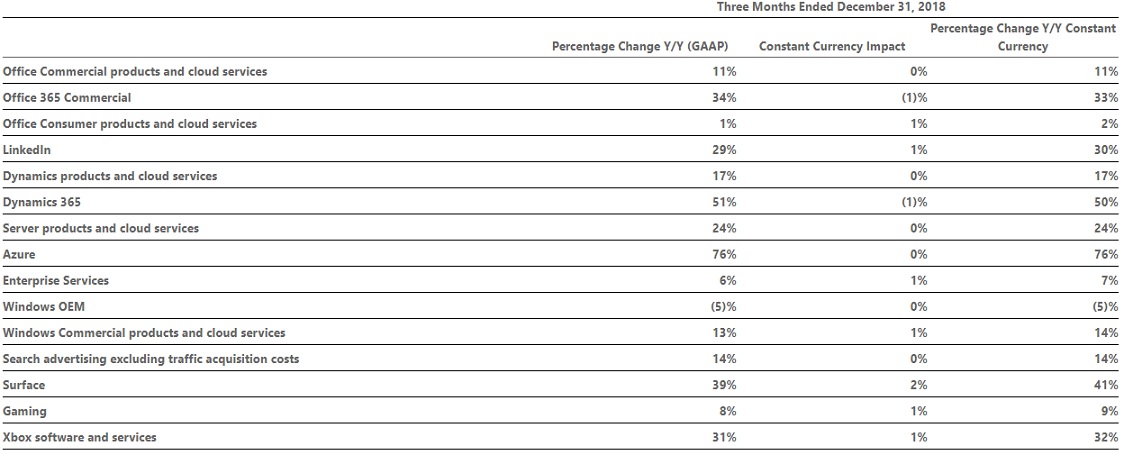 Our strong commercial cloud results reflect our deep and growing partnerships with leading companies in every industry including retail, financial services, and healthcare," said Satya Nadella, CEO of Microsoft. "We are delivering differentiated value across the cloud and edge as we work to earn customer trust every day."
With the debut of new Surface models the Surface Laptop 2 and the Surface Pro 6, Microsoft's Surface business has shown an increased revenue growth by 39 percent.
Microsoft has also been busy promoting its gaming business which has also shown an increase of 8% in the quarter with the company's Xbox software and services revenue growing at 31%.
LinkedIn has also been playing its part in the company's financial growth in the Q2 with its revenue increased to 29% during the quarter. But the bad part for Microsoft has been the modest revenue posted by Windows OEM which has declined 5% in the first quarter of the fiscal year 2019.