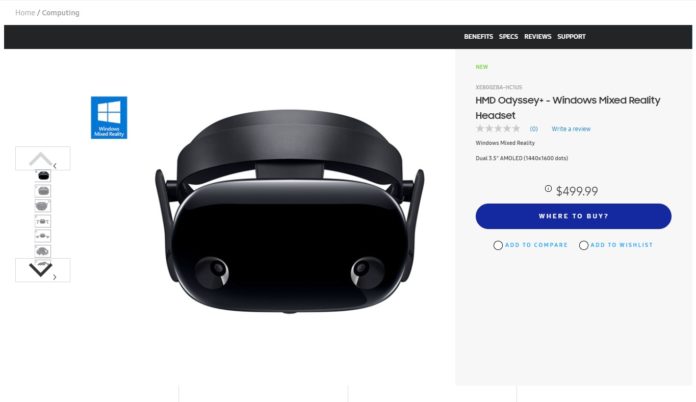 Update: Samsung has officially announced the new HMD Odyssey+ Mixed Reality headset powered by Windows 10. You can find the original story below.
Samsung's new VR headset powered by Microsoft's Windows 10 operating system is set to launch sooner than expected as the South Korean giant has made the product page live hours before launch.
First spotted by a Reddit user, the details of Samsung HMD Odyssey+ were revealed on the company's website. The successor to Samsung HMD Odyssey Windows VR headset would cost the customers around $499.99. At the time of writing this story, the product page is still live on the Samsung online store website.
Samsung HMD Odyssey+ seems to be a great piece of hardware and it would be competing with the likes of the Oculus Rift and the Vive.
Samsung HMD Odyssey+ improvements over the predecessor
It has an Anti-SDE display
Features removable cloth facial interface.
Built-in Bluetooth receiver for the controllers.
AR Passthrough by pressing the Windows+Grab buttons simultaneously.
Larger nose bridge area for more comfortable wear.