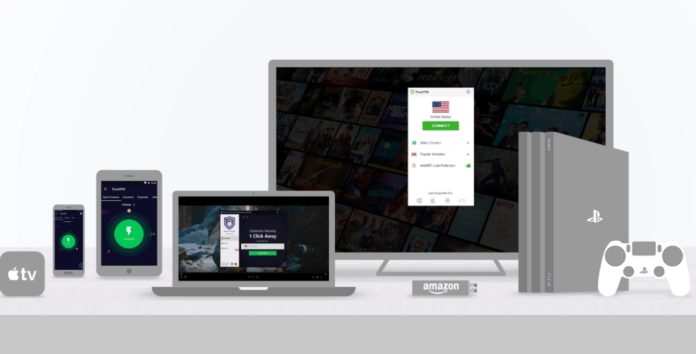 Virtual Private Network, also known as VPN allows you to create a secure connection to access websites over another network or location where you are not physically located.
Having a good VPN become increasingly important due to the age of increased surveillance but setting up a VPN connection can be complicated or require installing unmanaged software on your PC. But there are some solutions such as PureVPN that makes it easier for users to set up and run the VPN solution on their computers.
These days VPNs are really popular and there are many companies offering the service. Longtime PureVPN is a good VPN solution for your needs as it delivers an easy to use experience while still being easy to install and uninstall.
What is a VPN?
VPN is a great solution to browse the internet securely and privately. It forwards all your network traffic to a virtual network somewhere on the internet but allows you to browse the web using your own internet connection.
In other words, you can use the PureVPN to browse the internet using computer's internet connection but it will appear as if you are coming from another country of your choice. This would give you access to services that are not available in your country.
PureVPN Overview
PureVPN is a popular VPN service that you can use to change your computer's location and get an extra layer of security to watch TV shows, movies or play games that are not accessible in your country.
PureVPN is in the market of VPNs for almost 10 years and the server is in more than 140+ countries and it also comes with malware blocking along with support for DNS and IPv6 leak protection.
Privacy
PureVPN is a privacy-focused VPN service that does not record your activities or what you do online. PureVPN has a zero log policy that means the system does not record your browsing activities, logs, original IPs, the history of your browsing and everything else that you do online.
"Our systems, processes, and servers are designed to not keep any sensitive/personally identifiable data," PureVPN explains in its privacy policy page.
The app still records the total bandwidth used and as well as the time you connect to a server. Many other popular VPNs also logs connect and disconnect times and the bandwidth.
Price
$10 per month plan with no savings.
Everyone's favorite: Two years plan which requires you to pay $3.54 a month instead of $10.
There's also a plan that gives you access to PureVPN for $5 a month and billed annually.
You can pay for PureVPN easily via credit card, PayPal, AliPay, Cashu and there are several other payment methods available on its platform.
PureVPN sends you downloads link to their apps for Windows and other platforms in a welcome email that arrives after you make the payment. We downloaded the app on our Windows machine and the welcome screen had listed out different methods such as Security and Privacy, File Sharing but there's no detailed description of any these modes. You can however learn more about these modes on the company's official website.
After selecting a mode, the dashboard would show up and it looks much like any other VPN available in the marketplace. You choose locations from a world map, browse locations and pick up the cities or countries or regions.
The app also shows the ping times of the location which is really helpful and if you're already familiar with the VPN servers location, you can easily search location by name and enable it or you can create your own list of favorites location.
In nearby locations, we got a speed of up to 40-50mbps which is usable enough for almost everything.
In locations like the United States, the speed was up to 15Mbps in our tests but locations like New York gave us a speed of 20-30Mbps. That's better than it sounds.
Whatever server we used, the performance was good enough but there are some locations that gave us really slow speed which is only good for basic browsing and communication needs.
Features at glance
PureVPN has servers in 140+ countries to connect you to your favourite content.
It has a Split Tunneling feature that would help you choose which data to send through VPN and which to send through your ISP.
PureVPN has no bandwidth limit policy. That means you download and browse whatever service you like as are no data limits.
It's a P2P-enabled service with dedicated and highly optimized servers which is good enough for P2P file sharing.
Got issues? You can contact their support which is available 24/7.
A closer look at PureView features
One thing most notable about PureVPN is their rich feature set which is not available in any other VPN service currently available in the market. This offers their users a plethora of modes to choose from.
Worldwide Servers
PureVPN has one of the biggest arsenal of servers which currently stands at a staggering 2000 servers in 180+ locations. These locations cover almost every major country and account to 140+ countries all over the world. Apart from the locations, PureVPN servers offer an exceptionally large IP pool which gives the user a true taste of internet freedom. Being fully optimized, these servers offer pretty high speed, super strong encryption and a reliable connection which rarely drops.
Streaming
Who wants interruption or buffering while streaming their favorite content? I'm sure, no one! PureVPN offers unmatched streaming experience all because of its streaming optimized servers which enables you an experience without any buffering or added hassle.
Besides, you can easily access your favorite steaming service or content with the help of PureVPN's ultimate unblocking capability. When you choose their streaming mode, major streaming channels work like a charm be it Netflix, Hulu, Amazon prime or any other.
Unlimited Access to the Web
PureVPN unblocks any website which are either geography blocked or censored by the authorities. In this scenario, one should opt for a reliable VPN which is not traceable by anyone hence, making you completely anonymous. This is where PureVPN shines with a range of IPs on offer and added encryption to make you untraceable.
Split Tunneling
With PureVPN's Split Tunneling feature, you can easily choose which internet traffic you want to pass through the encrypted VPN tunnel and which traffic you want to pass through your local network (which is your ISP). This usually comes handy when you wish to use a local service, a local site or FTP service offered by your ISP.
Apart from that, this feature is mostly sought after by the gamers and streamers who most of the time require, both the VPN connection as well as the ISP network connection..
Internet Kill Switch
Imagine having your privacy exposed in the event of a sudden VPN connection drop, not really a scenario you want yourself to be in. PureVPN offers Internet Kill Switch (IKS) which acts as a failsafe button in case your VPN connection suddenly drops. Although, not too rare of a service but, it protects your privacy and kills all the connections to the internet as soon as your VPN connection drops, masking your true IP.
We tested many VPNs with this feature but PureVPN comes out as the most reliable one of the lot. Definitely, a recommendation if you take this feature seriously.
Ozone
A really fancy term but it does the job for what it is designed for. PureVPN offers advance features dubbed Ozone which includes malware protection, anti-intrusion system, app filter and most favorite of all, an ad-blocker which effectively blocks all the unwanted ads popping up on your screen.
Strong Encryption
Although every VPN in the market claims to have a super strong encryption, some of them actually put it to the test. PureVPN stands out with its military-grade encryption which offers a double layer of protection from the unwanted threats.
In addition to offering this feature, PureVPN also allows users to tweak it down or completely switch it off if they are looking for faster internet speed on a connection that they feel is not risky.
Various Protocols
No VPN comes complete without the protocols they offer. We tested PureVPN to the max and found that it features really nice protocols which include, SSTP/IPSec, PPTP, IKEv2, OpenVPN, and many other.
If you are looking for the most secure and reliable protocol, OpenVPN is definitely recommended. However, if you want regular browsing and fastest speed, use PPTP protocol for that purpose since OpenVPN is not the fastest one out there.
For maximum security, IKEv2 is another good option as it comes with added encryption but you should not be expecting very good internet speed from that either.
Dedicated IP
For just couples of bucks extra, you can bag PureVPN dedicated IP addon at just $1.99 which is actually quite cheap, even cheaper than your morning cup of coffee. It is basically a fresh out of the box IP and unique to the user using it.
Since normal VPN users get a shared IP addresses, dedicated IP is really useful when you are looking to whitelisting IP, secure access to your banking accounts, remote server access or accessing any other confidential and sensitive accounts which require a unique IP address to access them.
Port Forwarding
Port forwarding offered by PureVPN is a pro feature which enables you to remotely access any device at the same time when you are running a VPN connection.
Offered as an add-on, it is quite useful for the user who aims to access other devices or networks remotely while running a VPN connection simultaneously on their machines. What benefit you get out of it? Well, you can easily access other devices while the VPN tunnel stays there for maximum security.
Verdict
PureVPN is an average VPN solution for PCs and mobile devices. The overall rating of PureVPN from us is 3.5 out of 5 and it's a decent solution for the price. Interested? You can buy PureVPN from here.