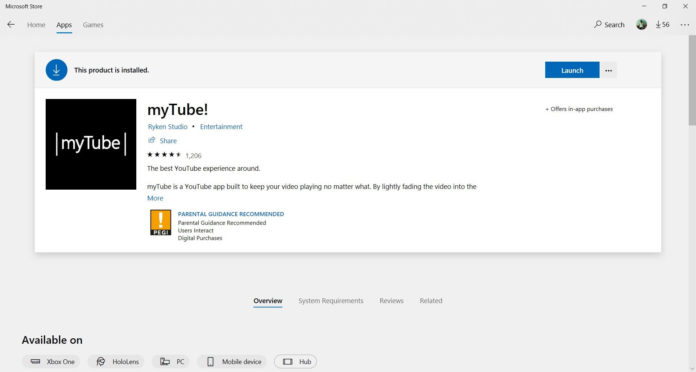 myTube, the popular third-party YouTube app for Microsoft's Windows 10 operating system is getting its biggest update on the Microsoft Store. The updated version is 3.2 and it comes with a long list of new features and improvements that you can find below.
All platforms
The most ambitious feature in this update is myTube Rooms (beta). Rooms allows you to – watch videos and chat together with friends, with videos kept synched up to the same position between all Room members. Rooms is still in beta, and still requires many months of work before it's truly complete, so please go in with the expectation of some bugs. I'm looking forward to your feedback to help make this feature truly amazing! You can find Rooms at the bottom of the account menu on PC and mobile, and at the bottom left of the home page on Xbox.
A couple new settings have been added: Private Mode and Language selection. Private Mode lets you browse to your heart's content without any of your activities being recorded to your history. And Language selection, as it's name suggests, let's you change your language to any of myTube's many supported languages (a big thank you to the beta testers for all the great translation work they've done.)
There has been a number of small changes and fixes across all platforms as well. myTube-to-myTube casting is now more reliable and works a bit more quickly thanks to optimizations made to the app's HTTP server code. Sharing to devices is now more reliable. Playlist bookmarking has been fixed. And so much more (Take a look at the full changelog)!
PC
Watched videos are now added to the Windows Timeline, making it easy to resume from where you left off in videos as you move from device to device! myTube will even remember what playlist a video is from if you open it from the Timeline.
Theatre Mode has been added to the video player. This mode will fill the entire app window with the video, without putting the app into full screen. While in this mode, video details, comments and suggestions can still be accessed by clicking the button that appears on the right side of the window. You can enable and disable Theatre Mode via its button at the top right of the video player.
PC & Mobile
The 'Up next' experience from Xbox will now appear at the end of videos, making it easy to quickly advance to the next suggested video. This can be disabled in settings.
Playlist history is now available in the app's history page. This works as you'd expect, whenever a video in a playlist is watched, that playlist gets added to your playlist history. Playlist history is recorded on Xbox as well, and will be added to its UI in a future update.
Individual videos can now be pinned to start as live tiles. A small tile template has finally been added as well, so when you resize the app's tiles to the smallest size, a thumbnail of the video is shown instead of just the myTube logo.
Xbox
It's now possible to leave TV Mode and use the PC UI with a simulated mouse cursor on Xbox. The option to exit TV Mode can be found in settings. If you wish to get back to TV Mode, you can find the option at the bottom left of the PC UI's home page.
The 'Up next' UI has been rebuilt with a more eye-catching and straight forward design.
The app now uses system reveal focus, meaning that selected items will have a colored glow surrounding them rather than just a simple white rectangle. This matches the focus visual seen in other parts of the Xbox OS.