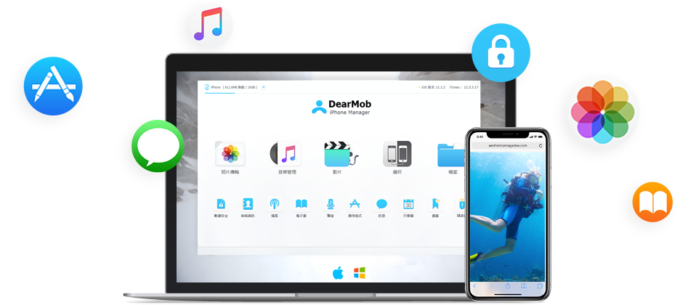 iPhones are made to last and Apple giving the latest software updates to old iPhones adds a cherry to the cake. So like we said, you love your iPhone, except for the times when you have to manage files between your iPhone and PC/Mac. Yeah, that is the time when iPhone users envy Android users. Transferring files between an Android phone and PC is really easy(for our readers, it is really easy with Windows Phones too).
By default, Apple users have to stick with iTunes to do anything that involves both their iPhone and Computer. But going against Apple's standards, iTunes isn't a great application. It gets the job done, but is a pain to use. Apple hasn't changed iTunes much, although they did try to improve iTunes recently. But, just like Apple removing headphone jacks and ports from their iPhones and MacBooks, they removed some features from iTunes. They could have improved the user interface but they didn't which made the whole experience poorer. People have always been searching for a better solution to iTunes and guess what, they can finally stop searching as we have found the best application to completely replace iTunes. Read our full review of the DearMob iPhone Manager and get ready to kiss iTunes goodbye.
DearMob iPhone Manager
By now, you've probably guessed what the application is about so let's get into the main features of the application. Talking about the features, the app has everything that you need to manage your iPhone and the best part is that it has a better UI and is really simple to use.
Main features
Transfer Photos with ease
iPhones generally have great cameras but doesn't have external storage support. So there is a high chance that you will fill your storage soon as you just can't stop taking pictures. Of course, you will always have iCloud which is, in fact, great for storing photos but Apple gives you only 5GB of free cloud storage which is definitely not enough. So you will have to back up your photos in your PC or Mac. Whichever you are using, DearMob iPhone manager is the best for transferring photos. An awesome feature with DearMob is that you can export photos from your iPhone to your computer in JPEG format. In case you didn't know, your iPhone shoots pictures in HEIC format which is a new image compression format which compresses images with higher efficiency. But it is not supported by all devices so exporting in JPEG format is what you need.
Video Management tools
Not just Photos, DearMob also has a complete set of video management tools. You can easily transfer videos from your iPhone to your computer and also transfer videos from your computer to your iPhone. Also, just like with Photos, you can export videos from your iPhone to your computer in a format that is supported by the system. iPhones now shoot in HEVC format. Similarly, you can transfer a video from your computer to your iPhone in a format that is supported by the iPhone. Once you transfer a video, a convert button will be shown over the video. You can click on that to convert the video into the supported format.
Music Synchronization
If you always use music streaming services to listen to music, this may not be an issue for you. But if you have an offline music collection in your computer then it is very difficult to copy them to your iPhone as Apple doesn't allow such things. It is also difficult to copy music from your iPhone to your computer. With DearMob, you can copy music from your computer to your iPhone within no time. It is also fun. All you have to do is connecting your iPhone to the computer, launch Dearmob and select the Music option. From there, you can simply drag and drop the music files that you want to copy to your iPhone and click the sync button. That's it, all your music will be synced quickly.
File Manager
If you want to manage any other file type like PDF, you can do that with the dedicated File manager in DearMob. To access the File manager, click on the Files icon. The interface is professional and easy to use at the same time. You can transfer different file types from your iPhone to your desktop and vice versa. The File manager is slick and easily gets the job done.
Backup & Restore
Backing up your data is extremely important if you have a lot of files that you will need at some point in the future. Similarly, after backing up, you will need to Restore if all your data gets lost somehow. For backing up your data, all you have to do is connect your iPhone to your computer and click on the Backup button. DearMob will check all the files in your iPhone and will start backing up your data. Additionally, you can also encrypt your data before you back up. Before you Backup, checkmark the "Encrypt your Backup" option to encrypt your data.
To Restore your Backup data, click on the Backup button and click "Restore backup files" option. DearMob will show you a list of all the previously backed up data. You can select the one you want and then click on Restore.
Apps Manager
One great feature that Apple removed in the so-called improved version of iTunes is available and working flawlessly in DearMob and that is App Management. DearMob can be used to take .ipa files from your computer and install those files as apps in your iPhone. In case you didn't know, .ipa files are those files that stores iOS applications similar to APK files in Android and .exe in Windows. DearMob also allows you to uninstall multiple apps at the same time.
Contacts, Calendar, Messages and other features
In addition to all the above mentioned awesome features, DearMob also has a few nifty features that are sure to make your lives easier. You can manage your Contacts, Calendar, SMS, eBooks, Podcasts, Bookmarks, Voice clips, etc. all from the app itself. All you are required to do is to connect your iPhone to the computer and open DearMob. As a bonus feature, it also allows you to use your iPhone as a Flash Drive. This feature can be accessed by clicking the Flash Drive icon.
Look & Feel
App Interface
The app has an unadulterated look to it. A super clean UI greets you when you launch the app. The UI looks modern and minimalistic. The colors have a pleasing appearance. Anyone would easily mistake this for an app developed by Cupertino themselves. When you launch the app, you can see a bunch of icons. These icons look very Apple-ish and are pretty straightforward. All the icons rest on a white background.
The bigger and more prominent icons are Photo, Music, Video, Backup, and Files. The other icons include Contact, Podcast, Book, Voice, App, SMS, Calendar, Bookmark, Flash Drive. Each feature can be accessed by clicking on the respective icon. Everything looks great and there is no confusion. These type of user interfaces are the ones you can call perfect.
Usability
With all these features, you might think that the app is heavy and slow to use. But that is not the case. The app is in fact opposite of that. The app animations are fast and fluid. The performance of the app is also very good. File transfer of even large content takes only a few minutes. The icon placements are perfect so anyone can easily become an expert user. All the features work way better than expected.
Availability
The DearMob iPhone Manager can be installed on both Windows and Mac OS. The experience is the same no matter what OS you are using. Finally, you don't have to worry about using an iPhone with a Windows machine.
Price
After reading all these, you might be wondering how difficult it was to develop this application. So it has to come at a price and it did. It is available as a free download but you have to pay a licensing fee in order to use any of the features.
The licensing fee for one year is $39.95 and it is valid for only one device. A lifetime licensing fee will cost you $47.95 and it also gives you access to more than one PC.
Right now they are offering a "Get It Free" license which allows you to use the latest version with all feature for free! This offer exists only for a limited time so grab it as soon as possible. But to be noted that the giveaway license does not support free upgrades.
You can join the giveaway from here.
Conclusion
For the vast number of features, it offers, DearMob iPhone manager is totally worth every penny. It is a must-have tool for anyone with an iPhone. It is a good deal even without the discounts. We couldn't think of any cons in the app. If we really have to say one, that would be the price. Not that it is expensive, but we feel that the one-year licensing fee makes you want to buy the lifetime licensing fee.
That said, the app is every bit perfect and it makes you wonder why even Apple couldn't do such a thing with their iTunes app. DearMob iPhone Manager is a great alternative to iTunes and you should give it a try.