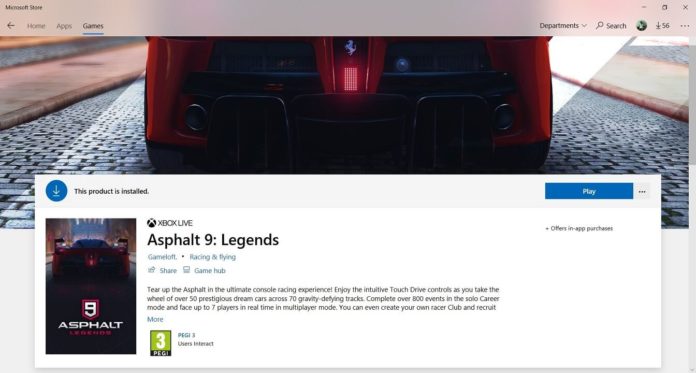 Asphalt 9: Legends for Windows 10 is now available in the Microsoft Store and this is the latest addition in the long-running series of racing games from Gameloft. At the moment, you can download the game in the Philippines, Thailand, and France. While Asphalt 9 is not available in other countries, you can change the region on your PC and install the game.
"Tear up the Asphalt in the ultimate console racing experience! Enjoy the intuitive Touch Drive controls as you take the wheel of over 50 prestigious dream cars across 70 gravity-defying tracks," the store description reads.
The game works well on touch-enabled devices and there are no noticeable glitches. It's currently in soft-launch in the Philippines, Thailand, and France so you cannot play the game online with your friends.
Key features
Gameloft says that this is the most desirable line-up of any Asphalt game to date. You'll find over 50 of the world's most amazing speed machines.
It features a new car editor that lets you customize the look and feel of the cars. You can define the exact colour and materials for your car, rims and brake callipers.
You can race across 70 tracks in the American wilderness, avoid landslides in the Himalayas and other places.
Just like any other racing game, it also comes with the ultimate Nitro Pulse.
The Career mode has over 60 seasons and 800 races.
Race against up to 7 players in real time.
It comes with a new Touch Drive that would streamline steering to let you focus on the fun of racing.
Last but not the least, you games feature club feature that lets you create your own community of like-minded racers. You can work hard with the fellow racers to rise up the ranks of the Club leaderboard.
The Asphalt 9 interface is gorgeous but graphics aren't the only area that's seen an upgrade. The gameplay and cars have seen a major upgrade as well.
As noted above, you will need to change the region on your PC to download the game. Luckily, Microsoft has made it very easy change between existing regions on Windows 10.
Open Start Menu and click on Settings.
Navigate to Time and Language > Region and Language.
The second option on the left-hand pane will allow you to change the region.
Under 'Country or region', you can select the Philippines as your region.
Open Microsoft Store from the below link and download the game.
Once the game is installed, make sure you revert the region changes.
In case you're wondering, the Asphalt 9 download size is around 1.85GB and you can download it from here.