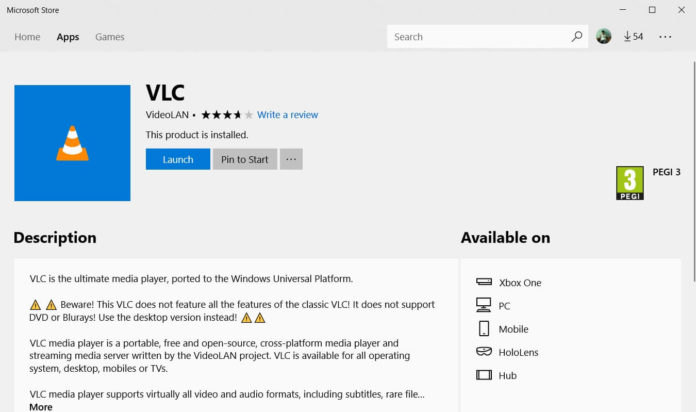 Back in 2016, VideoLAN launched the VLC universal app for PCs, tablets, and mobile devices powered by Microsoft's new operating system Windows 10. VideoLAN is committed to Microsoft's platform and the company is still updating their UWP app every month with new features and improvements.
Today, VideoLAN has recently released a new update for the VLC Media Player for Windows 10 and Windows 10 Mobile. According to the changelog, VideoLAN has included both new feature and fixes in this update. The update appears to be live in the Microsoft Store with version 3.03, but at the moment you can only download it in specific regions.
VLC version 3.03 for Windows 10 and Windows 10 Mobile improves the Chromecast feature and addresses other critical bugs. In other words, VLC is finally smooth on Windows 10 devices.
The company has also fixed an issue hitting OneDrive. The update has also introduced support for 2.35: 1 aspect ratio, and as well as added an option to put videos in the loop. VLC is also testing support for coding and decoding. It's worth noting you can download the new VLC player on devices with Windows 10 Anniversary Update or newer.
As noted above, the update is only live in specific regions, and it would soon become available for download for everyone in the Store. It's likely that VideoLAN is testing more updates to make the experience with the video player a bit smoother.
VLC's Windows 10 app is on a par with Android and iOS counterpart. VLC's Windows 10 app is feature-rich and it comes with support for Cortana, Live Titles, Continuum, Artists and Album pining to the start menu, Drag & Drop and more. It also supports DirectX 11.1 features for video and low-latency audio on PCs for smooth 4K playback.
VLC's Windows 10 app is offered on PCs, Mobile, Xbox One, Surface Hub, and HoloLens. You can also download the older version of the app on Windows 8.1, Windows RT 8.1, and Windows Phone 8.1 devices.
VLC is one of the most popular multimedia players out there and this is one of the apps that shouldn't be missing from your Windows 10 device.