The PC manufacturers failed to improve the sales of traditional PCs and tablets market once again, with the latest figures showing that this industry is still collapsing and IDC point to even slower performance in the next months. However, detachable tablets continue to be bright spots in a challenging market.
International Data Corporation (IDC) expects personal computing devices like traditional PCs (desktop, notebook, and workstation) and tablets (slate and detachable) to drop by 3.5% year over year in 2018.
The personal computing devices will decline 1.8% over the next 4 years, but the detachable devices will continue to improve its market share. IDC recently said that both Microsoft and Apple are contributing to the detachable, and Windows 10 ARM devices will also help the detachable market.
"Overall the challenges for traditional PCs and tablets remain the same as in past years," said Ryan Reith, IDC. "Despite the continuous decline of desktops, it's clear that not all are created alike as the growing demand for gaming PCs is bringing with it plenty of changes to the design and form factor of desktops while opening up opportunities for brands," said Jitesh Ubrani, senior research analyst.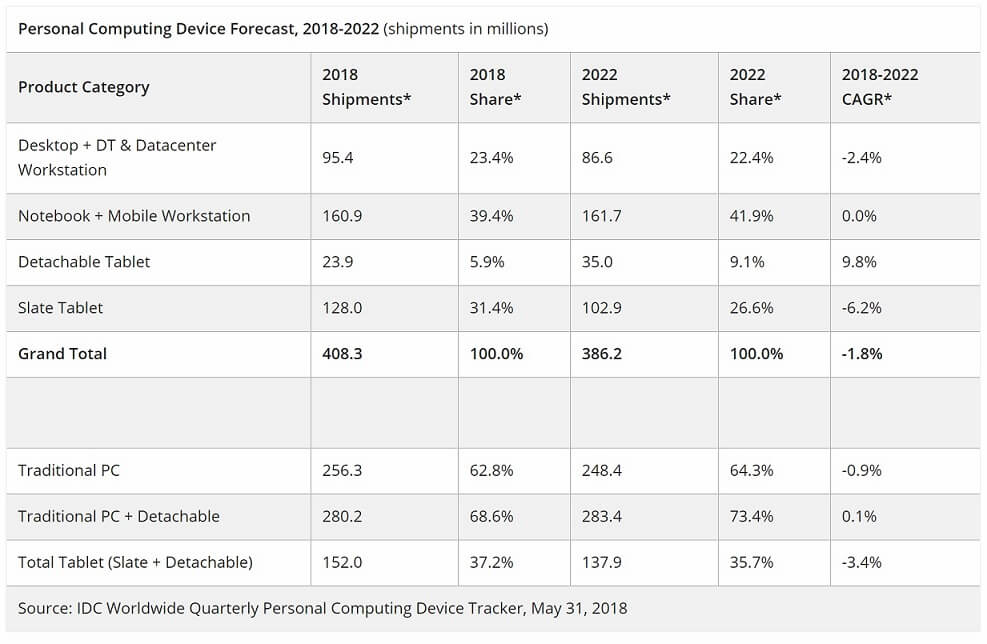 While Windows 10 has failed to improve the shipment of traditional PCs, it's likely that Windows 10 on ARM project will make a difference mostly because it powers the detachable devices.
The future of portable computing will shift towards mobility, and with users are becoming increasingly mobile, Microsoft's Windows 10 Always Connected PCs will help the detachable market grow as tablet shipments would continue to decline.
Windows 10 on ARM-powered devices serve to target Google's Chromebooks, and while the current-generation devices are expensive, it's likely that OEMs will soon manufacture low-end detachable to take the educational section by storm.