The rollout of Windows 10 April 2018 Update started earlier this month, and according to AdDuplex, a leading cross-promotion network for Windows Store apps, the latest version of the OS has already managed to reach 50% of Windows 10 PCs in just one month. It is worth noting that the report is based on data collected from around 5,000 Microsoft Store apps.
Microsoft typically needs a few months to ship new Windows 10 updates to all devices, but it appears that the more and more users have manually upgraded their systems to the newest version of the operating system.
Windows 10 April 2018 Update is available for manual download since April 30, and in just one month, the operating system is on 50% of PCs. AdDuplex claims that this the fastest spreading Windows 10 update by far, and the previous version of Windows 10 (the Creators Update) was under 50% for about 3 months.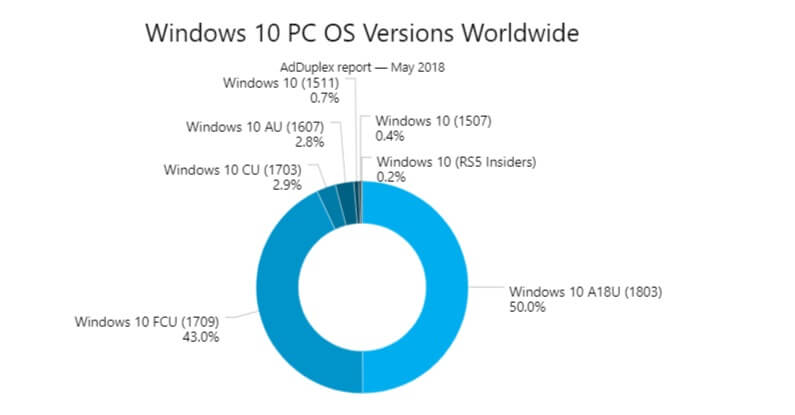 Microsoft has tried to make Windows 10 the right operating system for all devices with the April 2018 Update (version 1803). Windows 10 version 1803 is a big update and it comes with Timeline, a new feature that allows users to resume the activity from where they left off. It also improves Edge browser, Start menu, Fluent Design, first-party apps and fixes the glitches reported by users.
Windows 10 April 2018 Update offers smooth experience and the performance is also better on the low-spec machines that were specifically developed to be affordable.
Microsoft started allowing manual downloads of Windows 10 April 2018 Update on April 30, and you can manually check for updates. To install the newest version of Windows 10, navigate to Settings -> Update & Security, and simply click the Check for updates option in Windows Update.
While many people are happy with Windows 10 April 2018 Update, it is also causing unexpected problems on some devices and users claim that the update is quite buggy.
Microsoft will most likely fix all the reported issues with the next cumulative update that will take place on June 12. Every month, on second Tuesday, Microsoft ships patches for all supported version of Windows 10 with fixes and improvements. However, it remains to be seen if Microsoft will able to provide a flawless experience in Windows 10 April 2018 Update on all devices.