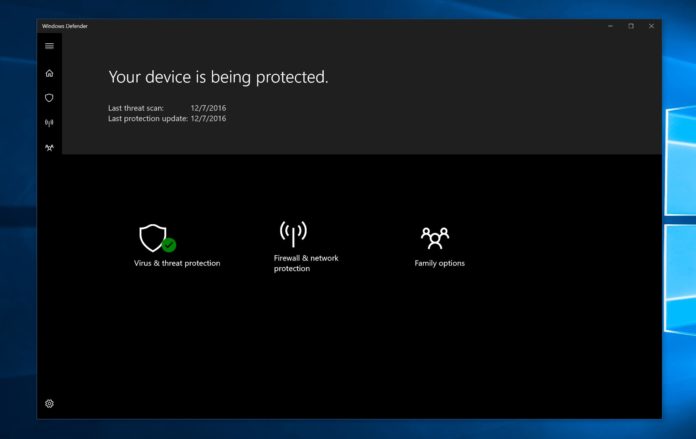 Windows Defender is getting better with every single update and according to the most recent antivirus test, the Microsoft has once again managed to improve the performance of Windows 10's built-in antivirus. Microsoft has published a blog post to praise the capabilities of Windows Defender, and the company has also used this occasion to explain how it can protect user data in the OS by default.
It goes with saying that the feature and cumulative updates have improved Windows Defender and its capabilities significantly in the past few years. According to the latest results obtained from January-February 2018 AV-TEST research. Windows Defender also got a perfect score in Protection tests.
Microsoft has improved Windows Defender in almost all areas, with the default antivirus solution getting a score of 5.5 points out of a maximum of 6 in performance tests.
"Windows Defender AV improved this cycle, achieving a 5.5/6.0 Performance score and outperforming the industry in almost all areas. These results reflect the investments we put in optimizing Windows Defender AV performance for high-frequency actions (e.g., application run)," says Zaid Arafeh, Senior Program Manager, Windows Defender Research team.
Windows Defender has been updated to protect users from all attacks. "Windows Defender ATP's antivirus capability achieved a perfect overall Protection score in the January-February 2018 tests," the company explains. The security feature arsenal is bundled into the operating system to protect users from all attacks.
The latest Windows 10 April 2018 Update has improved Windows Defender with updated antivirus engine that can block and protect users running the operating system.
Microsoft's next big update, Windows 10 Redstone 5 is expected to rename Windows Defender Security Center to Windows Security. The rebrand would make sense for the security approach that Microsoft embraces for Windows 10. The new Windows Security is available for the beta testers, and it's likely that it'll be released to the production systems across the world in October.