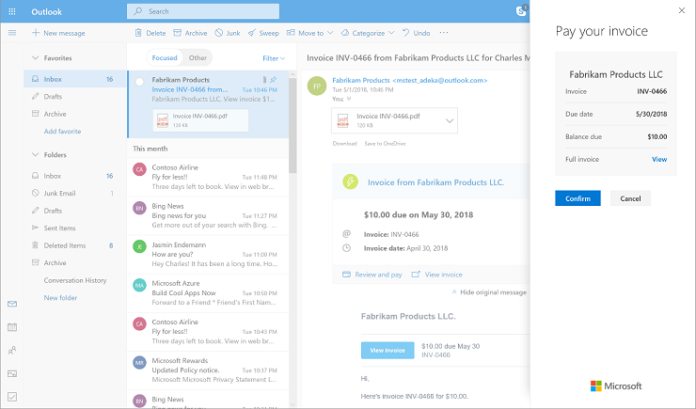 At Microsoft's annual developer conference Build 2018, Microsoft officially announced that Adaptive Cards is coming to the Outlook 2016 and outlook.com as well.
Last year at Build 2017, Microsoft announced Actionable Messages in order to let users get things done instantly. The purpose of the Actionable Message is to allow users to perform various actions without leaving Outlook. And after seeing significant growth within few months Microsoft expanding the capability of Actionable Messages.
With the use of Adaptive Cards Microsoft bringing support for payments in Outlook. Adaptive Cards are an open card exchange format that is supported across Outlook, Windows in the Timeline View, Teams and within Cortana.
Basically, Adaptive Cards will allow developers to exchange UI content in a common and consistent way. We receive so many emails that require and imply actions such as approving report or assigning a task to a team member. With the help of the Adaptive Cards, developers can change the user engagement with them and completely transform the workflow, and conversations into actions.
Microsoft worked with GitHub, Asana, and Limeade to bring the first set of Actionable Messages with Adaptive Cards. The aim of the Adaptive Cards is to lower the friction of getting things done. Furthermore, Microsoft made it easier to build an actionable message using adaptive cards. You can check out this documentation for more details.
Apart from this Microsoft also integrating Microsoft Pay in the Outlook. With this integration, a user will be able to make payment instantly and more securely within an email. Microsoft already partnered with Stripe and Braintree payment gateway, billing services including Zuora, and invoicing services including FreshBooks, Intuit, Invoice2Go, Sage, Wave, and Xero. Microsoft also working closely with Fiserv too.
Adaptive Cards are now supported for Actionable Messages within web-based Outlook clients, and in upcoming months it will soon be supported in Outlook 2016 for Windows.
Microsoft also pointed out that payments in Outlook will roll out in phases. So, initially, only small number of Outlook.com user's will get it but in upcoming months it will be available more broadly.