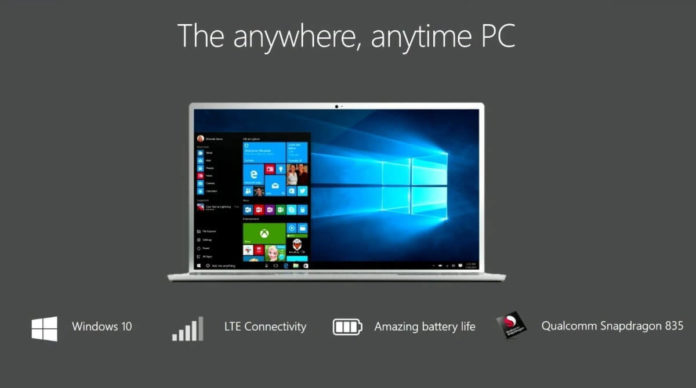 Always Connected PCs have been announced a few months back by Qualcomm and Microsoft. Several devices from HP, Asus, and Lenovo have already launched or will launch soon in the market. Many carriers like Verizon, AT&T, Sprint in the US and major carriers in Germany, Italy, the UK, France, and Australia have agreed to support this new category of devices. However, no service provider agreed to support Always Connected Windows 10 PCs in India, until now.
India is a huge market for smartphones and laptops as well. 4G connectivity and services are now booming in India thanks to Reliance Jio which shook the market by providing high-speed 4G VoLTE services in India at the fraction of the cost charged by other service providers. This strategy made Jio the fastest growing network service provider in the world. This growth temped all other service providers in India to lower the cost of data services. India is now the top country in terms of mobile data usage.
Reliance Jio has plans to launch Windows 10 laptops with 4G connectivity
Reliance Jio is now in talks with chip maker Qualcomm to launch Always Connected PCs in India bundled with their 4G data and services. Smartphones are great devices for media consumption on the go but real productivity always requires a PC. Connectivity has always been an issue with laptops and people always had to rely on public Wi-Fi hotspots for connecting their laptops to the internet. Microsoft and Qualcomm have decided to bring an end to this problem by introducing Always Connected PCs. Reliance Jio is now planning to bundle these new devices with 4G data to launch them in India.
Miguel Nunes, senior director and product management at Qualcomm Technologies, told  "…we have talked to Jio. They could take the device and bundle it with data and content,"
Qualcomm is also in talks with Indian company Smartron to bring laptops powered by the Snapdragon 835 SoC to India. These laptops will have cellular connectivity.
What are Always Connected PCs?
Always Connected PCs are a new category of Windows 10 PCs powered by ARM processors rather than the traditional Intel or AMD chips. ARM processors have a highly efficient architecture which provides really good battery life to PCs. This is the reason why mobile phones are powered by ARM processors. The main highlight when it comes to PCs is connectivity. These PCs will have slots for inserting a SIM card or will have an inbuilt e-SIM which will provide high-speed internet access. Another advantage of these PCs is that they can be made extremely thin when compared to Intel or AMD powered laptops.
Microsoft worked with Qualcomm to emulate Windows 10 to run on Qualcomm's Snapdragon 835 Soc. Though the initial batch of devices scored poor in benchmarks, that is not the case with real-world usage. Mobile processors like the Snapdragon 835 and 845 are really capable of doing complex tasks and real-world usage shows that Always connected PCs are good enough for most people who travel a lot. These people need seamless connectivity and great battery life which can easily be provided by Always Connected PCs.
Laptops with internet connectivity are the next big thing
Smartphones are getting more and more powerful but they still haven't matched up with the productivity capabilities of a laptop. According to Counterpoint Research, almost 5 million laptops are sold every year in India and most of these devices are connected to the internet via enterprise or public or home Wifi hotspots.
Neil Shah, research director of devices & ecosystems at Counterpoint Research, said "So if these productivity-centric devices are connected to cellular networks, it will boost the value proposition, driving growth for this segment: first, by providing ubiquitous connectivity on the go and, second, in terms of privacy and security as the cellular connectivity is highly secure compared to WiFi hotspots,"
Counterpoint Research also provided a good statistics as to how much network service providers can earn if they provide connectivity to laptops. If they are able to sell at least 1 million Always Connected PCs (which is 20% of all the laptops sold in India), they can charge anywhere between Rs 300 (US$5) to Rs 1000 (US$15) a month depending on data usage. This will give them a revenue of $5 million or Rs 30 crore a month or a minimum of Rs 360 crore per year to more than Rs 1000 crore a year.
This seems to be a win-win situation for everyone. The customers will get seamless 4G connectivity and great battery life. Network service providers will get new revenue from laptop users. Laptop manufacturers will be able to sell a new category of devices and finally, Microsoft will get more happy Windows 10 customers.
Reliance Jio offers much more than just 4G data and services. These additional products include Jio TV, Jio Music, Jio Cinema, Jio Chat, Jio Mags, Jio Xpress News, Jio Money, Jio Security and Jio NewsPaper. Jio will be the first network provider in India to provide support for Always Connected PCs. There is a high probability that Jio will bring at least some of the above-mentioned products to these Windows 10 laptops and if that happens, Jio will definitely reach new heights.