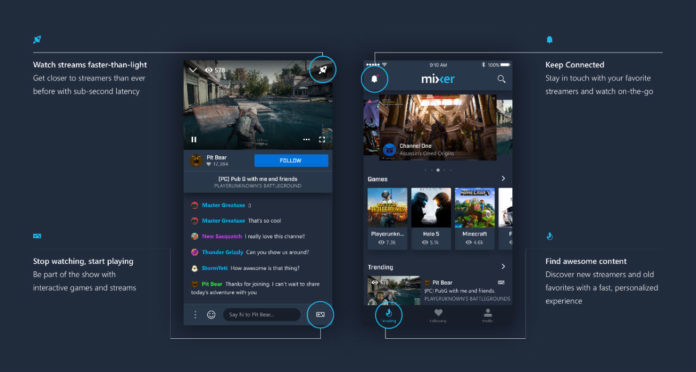 Formerly known as Beam; Mixer is a live streaming video platform owned by Microsoft in August 2016.
Today Microsoft is rolling out a new update to the Mixer iOS and Android app. The latest update includes a number of new features and enhancement over the last public update. The company announced that the latest update includes picture-in-picture browsing, all new landscape view, HypeZone Compatibility, Hosted Channel Viewing and more.
The most notable new feature in this update is picture-in-picture browsing. It works same as the other video calling, streaming app (YouTube, Twitch). You will be able to pull down any video stream at the bottom of the screen and you can browse throughout the app. Another important new feature is the HyperZone Compatibility. In case if you missed it HypeZone is a dedicated channel for PlayerUnknown's Battlegrounds (aka PUBG). Yes, support for HyperZone is now supported in the mobile apps.
In addition to this, Microsoft also refurbished the landscape mode (view). From now on the chat and interactive flyouts won't overlay the stream. That means it allows players to view hosted channels with the app.
Here's the official change-log for this update:
HypeZone: Mixer's unique channels highlighting the streamers closest to winning are now on the mobile app!
Picture in Picture: You can now browse other streams, read 'About' pages, traverse the app without leaving the channel you were watching.
Hosting: You can now view hosted channels with the app and chat in both channels.
Refreshed Landscape View: Chat and interactive flyouts no longer cover the stream video on landscape view.
Apart from this the app also received general bug fixes and performance improvement. Let us know in a comment below if you find any interesting new feature in this update. You can go ahead and update the Mixer app on your Android and iOS device from the app stores.