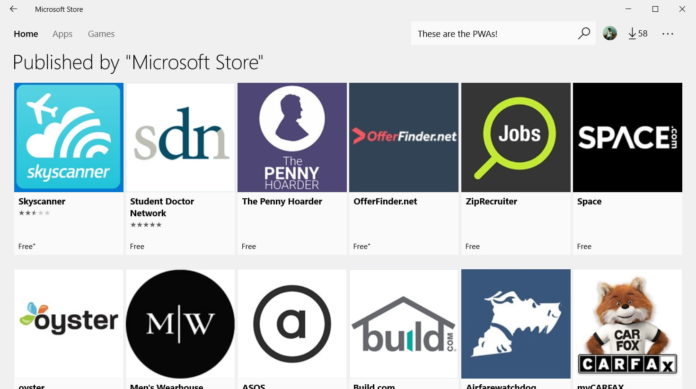 We had earlier reported that Microsoft is trying to bring Progressive Web Applications to its Microsoft Store. In this regard, Twitter was the first company which released its Progressive Web Application in the Microsoft Store.
The PWA application runs across platforms and are quality applications which will be available in the Microsoft Store. Microsoft however trust the importance of the service and with permission of the developers release the application to its Store.
The new Progressive Web Applications are published by an account, named "Microsoft Store". The new applications can be installed on both Windows 10 and Windows 10 Mobile since the PWA apps can run on mobile devices regardless of the operating system. The PWA features on Windows 10 Mobile are however limited, the app is more or less a web page on phones.
Microsoft has made available the PWA with Redstone 4 which is currently in testing mode with Fast Ring insiders. Progressive Web App is a simple web app and/or web service which uses various modern web capabilities and delivers an app-like experience across the device.
Microsoft has currently released the below apps to the Microsoft Store as PWA's with the permission of their developers. You can find the full list below.
As reported earlier Microsoft currently uses Bing Crawler tool to check popular websites to find out if they meet the predefined standards to automatically generate appx wrapper and put into the Microsoft Store.
What's more interesting is that the developers need not submit an update to the Microsoft Store after they add any new features since the PWA are hosted on the developers servers and the data is updated whenever the website is refreshed.
Currently the Progressive Web Apps are available for Insiders enrolled in the Fast Ring and once the company rolls out Spring Creators Update to all users, the PWAs are expected to be available for all users to download and enjoy.