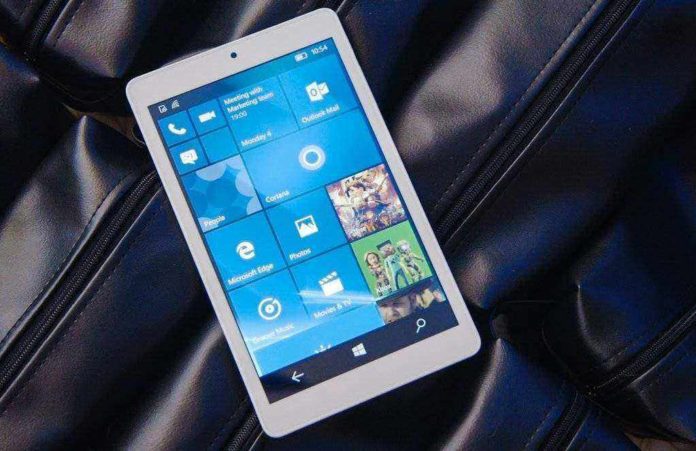 Cube's phablet with Windows 10 Mobile operating is now available for just $129.99. Straddling the size format of smartphones and tablets, Cube WP10 is a great product for note-taking in OneNote app. While we expected this device loop to be cheaper, the build quality is actually really quite good considering the price tag.
You can buy the Cube's Windows Phone for $123.99 at GeekBuying by using the coupon code: VNLTCPWB. This Windows Phone has a metal frame, the front and rear panels are made of glass to give a premium finish. Cube WP 10 is an affordable mobile device with a 2-megapixel front camera and 5-megapixel rear camera.
The display and performance aren't amazing. It has a 6.98-inch display with 720p resolution, although brightness is good, it doesn't look really good as it has been stretched out across 6.98 inches. While the Windows Phone complement screen-intensive activities, the Cube WP 10 isn't a stylish device, the bezel is thick at the top of the screen and it looks somewhat ugly.
The battery backup of the device isn't good either. It has a 2850mAh battery which is not enough for such a large screen. The device is powered by Qualcomm's Snapdragon 425 processor, 2GB of RAM coupled up by 16GB internal. It also supports LTE but the connectivity is limited as only 2100Mhz and 1800Mhz is supported.
The performance shouldn't be a big deal for the users as Windows 10 Mobile is not resources intensive. For $123, the Cube WP10 is a good deal for Windows Phone enthusiasts, if you are interested, you can buy the device from here.
While Windows 10 Mobile has been discontinued, the supported Windows Phones are typically the first devices to receive security updates whenever a new vulnerability is discovered. For example, Microsoft fixed the Meltdown and Spectre vulnerability in Windows Phones before Google and Apple. While Android security updates rate depends on each manufacturer, it is still nowhere close to Windows Phone.